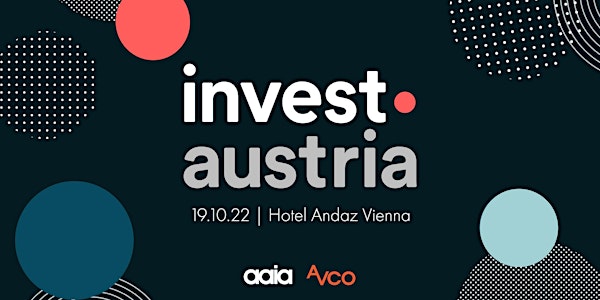 invest austria 2022
The leading event to connect Angel Investors, Venture Capital and Private Equity, taking place for the 2nd time.
Zeit und Ort
Veranstaltungsort
Hotel Andaz Vienna Am Belvedere 10 Arsenalstraße 1100 Wien Austria
Karte und Wegbeschreibung
Rückerstattungsrichtlinie
Zu diesem Event
#investaustria is the leading event for the players of the pre-IPO capital market in Austria with the goal to strengthen the startup ecosystem and growth financing.
On October 19th we will connect Angel Investors, Venture Capital and Private Equity for the second time.
Get ready for keynotes, panel discussions, roundtables and quality networking with 300 on-site attendees at Hotel Andaz Vienna!
The morning sessions will be available via livestream for those who can't be in Vienna.
For more information on the event, the agenda and speakers please visit invest-austria.com!
aaia & AVCO members will receive special discount codes
***
GDPR: By signing up for this event, you agree to give the organizers the permission to be contacted with the e-mail address used for the sign-up. Of course, your contact data is handled with care and will not be passed on to third parties. You can request not to be contacted at any time.