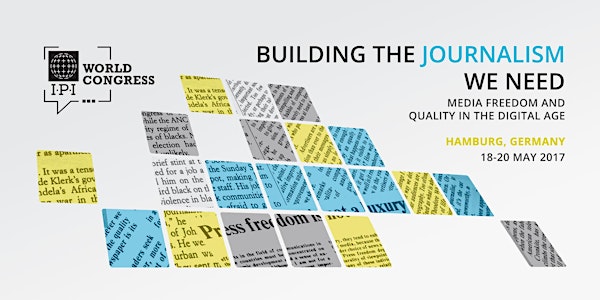 IPI World Congress 2017
Refund Policy
Contact the organiser to request a refund.
Description
The International Press Institute (IPI)'s annual World Congress is our global media freedom gathering. More than 300 editors and journalists gather to debate trends and exchange best practices in an inspiring networking event. From spin and political propaganda to repressive laws, from orchestrated cyber attacks and troll armies to lack of funding and economic pressures, quality journalism faces numerous challenges. Leading media experts will present solutions to these challenges. Check out our programme here.
Registration Fees:
IPI Member Rate: € 400
Non Member Rate: € 550
Bring a Colleague: € 400 (IPI member rate)
Join IPI and Save Rate: € 500 (for new members only)
If you are not yet a member of IPI and would like to join - fee includes IPI Associate Membership for 2017 @ €100 (instead of €150) + World Congress Registration @ €400 (instead of € 550). Access to all sessions, lunches, dinners and networking events during the Congress. For more information on membership contact: cklint[at]freemedia.at or click here
The registration fees for the Congress do not include travel and accommodation costs.
Fees for local participants
We will be offering special fees for local participants. Please contact our events team if interested.

What does my registration fee include?
Accesss to all sessions, lunches, networking events during the Congress. Please note that the registration fee does not include travel and accommonadtion.
What's the refund policy?
In the case of cancellation before 5 May 2017, delegates will be reimbursed for the total amount of the registration fee; from 5 to 14 May 2017 for 50 per cent of that amount. After 14 May 2017, IPI will not issue a refund, except in certain exceptional circumstances such as bereavement, illness or severe accident.The reasons for cancellation must be supported by verifiable documentation.All notices of cancellations must be made by delegates in writing, by letter, email or fax, and sent to:
International Press Institute (IPI)
Spiegelgasse 2/29 |1010 Vienna – Austria
Tel: + 43-1-512 90 11
Fax: + 43-1-512 90 14
E-Mail: cklint(at)freemedia.at

How can I contact the organiser with any questions?
For questions about the 2017 IPI World Congress in Hamburg contact our events team.