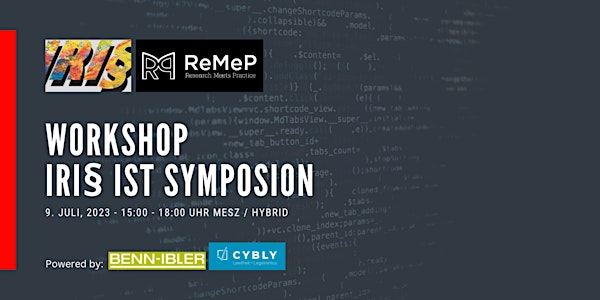 IRI§23-ReMeP Workshop "IRI§ ist Symposion"
Im Rahmen des IRI§23 Trimesters findet in Kooperation mit ReMeP der Workshop zum Thema "IRI§ ist Symposion" statt.
Von ReMeP - Research Meets Practice
Datum und Uhrzeit
So., 9. Juli 2023 15:00 - 18:00 CEST
Veranstaltungsort
Ankündigung folgt
Zu diesem Event
3 Stunden

Mobile E-Tickets
Details zum Programm folgen in Kürze.
Änderungen vorbehalten.
Über den Veranstalter
Our objective is to expand our community of more than 100 scientists and roughly 1,000 practitioners by promoting an ongoing exchange through scientific events such as conferences, seminars, and workshops that are geared towards practical needs, thus providing scientists in particular with the opportunity to present new research findings and projects on the one hand and to provide them with feedback from practitioners on the other. Practitioners, in turn, are given the opportunity to exchange ideas with scientists, to learn about the latest innovative developments and to directly contribute their practical input to ongoing research.
Researchers and academics interested in connecting with practitioners and exchanging ideas across sectors.
Practitioners especially from companies and public management who are looking for continuous improvement and who want to offer the best possible quality to their clients, those who claim cutting-edge leadership, as well as consulting firms who want to provide successful, state-of-the-art advice. We are particularly interested in young (prospective) academics and students, who are admitted free of charge to all our events.