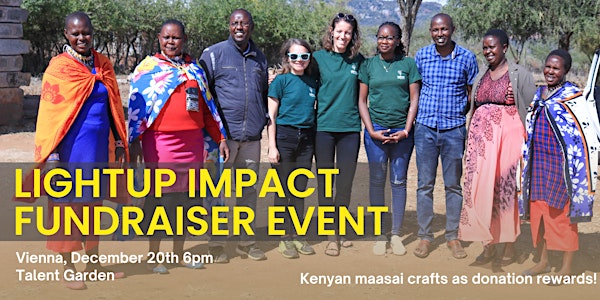 Lightup Impact Fundraiser & Networking Event
Let's empower locally-led non-profits in gender & health in East Africa to create a world of equality together!
When and where
Location
Talent Garden Austria 111 Liechtensteinstraße #115 1090 Wien Austria
About this event
Welcome to the Lightup Impact Fundraiser Event! Watch our video to learn more about our work and about our fundraiser here.
Aim of the event
Through this event we aim to raise money and find partners to empower one early-stage grassroots organization in gender & health in East Africa to become sustainable. We will support and train for a whole year their key leadership, strategic, and advocacy skills. Therefore, they will be better prepared to run their organizations, scale their sustainable growth, and accelerate their social impact. If in five years time, we can empower all of our 90 members to become sustainable, we could impact the lives of over 27.000 vulnerable women, children, and youth to ensure gender, health, and education equality. This event is for individual donors, partners, investors, other social entrepreneurs and anyone in support of our cause!
What to expect
A fun and inspiring night with like-minded people! We will offer finger food & refreshments and handmade Kenyan Maasai Crafts as donation rewards. Opportunity to meet our Guest of Honor, her excellency Ambassador Mary Wangui Mugwanja and a fellow austrian social entrepreneur and Ashoka Fellow Rebekka Dober, founder of YEP (Youth Empowerment Participation) and her team.
Join us to learn more about Lightup Impact, the Fundraiser and the impact we created in east Africa until now. Please note: event ticket fee covers entrance, food & drinks. Voluntary donations in exchange for Maasai crafts can be made at the event in cash or through our online digital fundraiser.
Agenda
6:00-6:30 pm: Welcome & get-together
6:30-7:00 pm: Lightup Impact
7:00-7:30 pm: Fundraising & Networking; Maasai Craft Market
7:30-8:00 pm: Guest of honor: Ambassador Mary Wangui Mugwanja
8:00-8:30 pm: YEP (Youth Empowerment Participation)
8:30-10:00 pm: Fundraising & Networking; Maasai Craft Market
Where: Talent Garden, conference room (FLOOR 6)