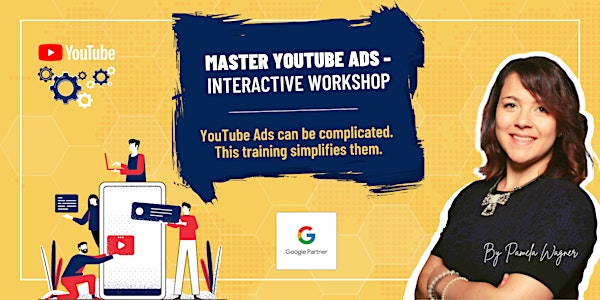 Master YouTube Ads - An Interactive Training to Set Up Successful Campaigns
Whether you're new to YouTube Ads or want to get more out of your current campaigns, you're guaranteed to learn something new!
About this event
If you don't have a video ready yet, you can still attend this training and simply add your video when it's ready.
This training is right for you if:
You may have already seen your competitors use YouTube Ads and want to finally get them started for yourself...but don't know where to start and find it all very confusing...or, you already tried a few campaigns, but are wondering what you've missed that they are not working as well as you should.
Discover from a former Google employee, Google Partner, and Forbes 30 Under 30 Honoree how paid advertising on YouTube Ads really works. Get solid knowledge of video campaigns in order to communicate efficiently with agencies, freelancers or your employees, or eventually apply the skills yourself.
During this interactive training, you will:
Discover how YouTube Ads really work, how they can drive your overall marketing strategy, and contribute to your business growth.
The different campaign types: drive conversions, ad sequence, influence consideration, skippable, non-skippable (incl. bumper).
Important and often little known audience hacks & tricks that our clients use to spend their budget 2-3x more efficiently than their competitors.
Set up your own video ad campaign in Google Ads.
And, as a little bonus, which our participants always highlight: get to network with people from all over the world!
See what's possible when getting YouTube Ads right:
In less than a week, this client doubled the interaction rate in comparison with the campaign she had run before. Not just that, but also the av. CPV decreased by 50%, and with that, she got 2x as many views than before - with the same daily budget.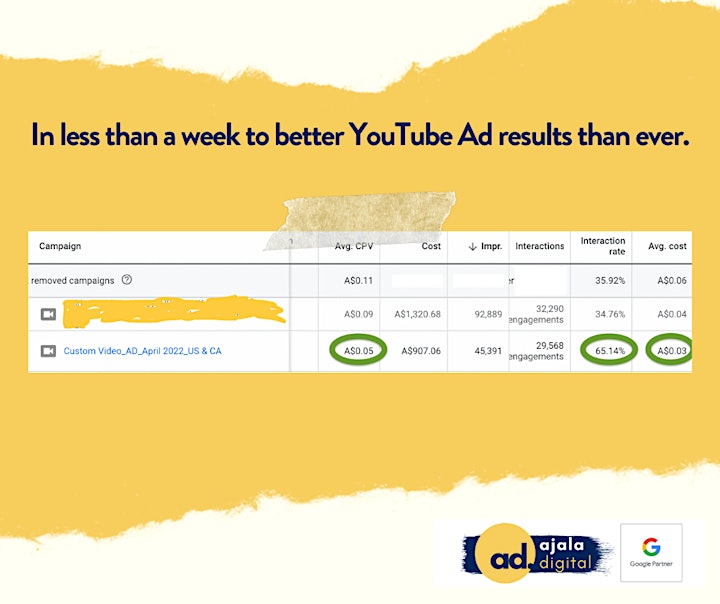 You'll benefit from this training if you are:
(an online/digital) marketing manager
an employee of an ad agency
a CEO or in a managing role and just want to be able to understand Google Ads in order to make better decisions
new to YouTube Ads and want to get a first idea of it and if it is something you might want to explore further
already running YouTube Campaigns and want to advance them to a 'Pro' level (trust us, the improvement potential is huge!)
Included in the workshop:
Loads of knowledge gems that 99% of marketers and big agencies don't know (trust us, we've helped more than 3000+ companies use Google Ads more profitably)
Your personal Certificate of Completion
Direct feedback for your campaign from Pamela Wagner
Fun & success
Network with other successful digital marketers
You must have a laptop with a working mic/camera to be able to participate effectively in the training. The session will be highly interactive, and you will create your own YouTube Ads campaign.
Important note: if you don't have a Google Ads account yet, you'll receive instructions to set on up prior to the training.
What People Like About Our Work: