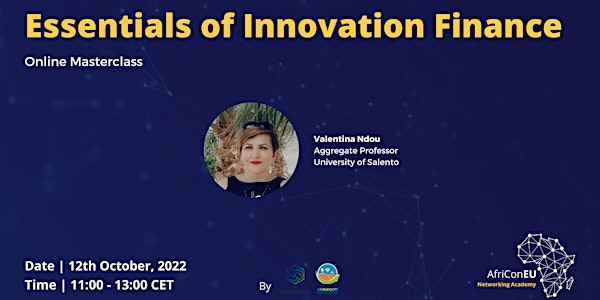 Masterclass: Essentials of Innovation finance
AfriConEU Networking Academy - Masterclass- Essentials of Innovation finance
About this event
In this masterclass, we will talk about the role financing and funding play in innovative projects. We will go through the key elements in innovative finance, enterpreneurship competence, and our focus will be on crowfunding techniques.
So, if you want to know how to finance innovative projects, save yourself a spot in this masterclass.
Speaker
Valentina NdouSenior Researcher and Aggregate Professor on Management Engineering Department at University of Salento (Italy).
Her research specializes in analyzing the innovation management trends and the effectiveness of information systems with particular emphasis on new solutions and approaches for smart tourism, eBusiness, entrepreneurship education and knowledge management.
Agenda
11.00-11.05: Get together
11.05-11.15: AfriConEU project
11.15-11.25: Key elements in innovative finance
11.25-11.35: Mentimeter
11.35-12.05: Entrepreneurship competence, Innovative Finance, Crowdfunding techniques, Case study
12.05-12.35: Crowdfunding
12.35-12.50: Mentimeter
12.50-13.00: Q&A & closing remarks
Who should attend
Leaders of Digital Innovation Hubs (tech hubs, universities, incubators, accelerators)
Entrepreneurs and entrepreneur support network leaders
Digital skills providers
Other innovation ecosystem actors (investors, investment enablers, policymakers and advocates)