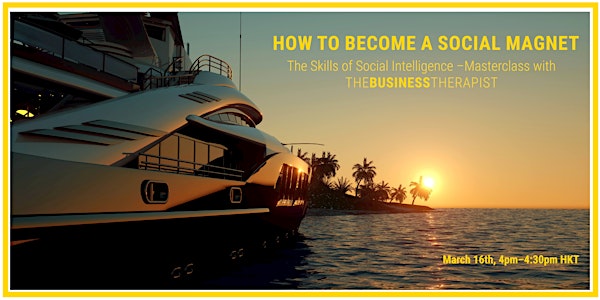 Masterclass with The Business Therapist: Enhance your Social Intelligence
The Skills of Social Intelligence are a toolkit to internationally navigate social environments.
About this event
The world is becoming smaller and "culture eats strategy for breakfast" is more true than ever before. The conference nomad and world traveler, Niki Skene is The Business Therapist - and from numerous insights, personal trainings, coachings and mentorings, this masterclass has been developed:
This 90min Masterclass covers:
- Introduction to the Skills of Social Intelligence
- Interaction with the participants/personal experiences and live advice.
Premium Ticket Bonus Features
- A free personal (one-on-one) follow up coaching session for all premium tickets
- Access to the recording of the session
- Slides from the presentation
You will receive:
- an e-Certificate for this program