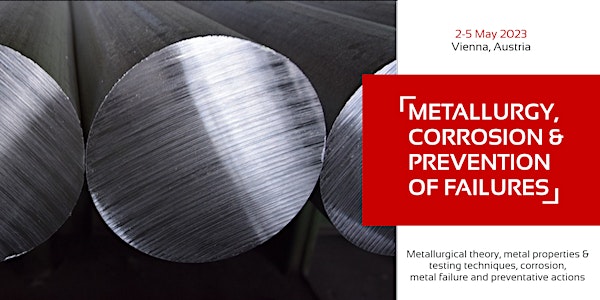 Metallurgy, Corrosion and Prevention of Failures
The course utilises a mixture of lectures and workshops to introduce metallurgical theory, metal properties and testing techniques, and more
By HOT Engineering - A Member of the HOT Energy Group
Location
Vienna To Be Announced 1150 Vienna Austria
Refund Policy
Contact the organiser to request a refund.
About this event
DESCRIPTION:
The course utilises a mixture of lectures and workshops to introduce metallurgical theory, metal properties and testing techniques, corrosion, metal failure and preventative actions.
Specific studies will be carried out on component failure in the oil industry. Additionally alloy systems used in the oil industry will be examined in greater depth. Reference will be made to specifications used in the oil industry.
Course Level: Foundation
Course Location: Vienna, Austria
DESIGNED FOR YOU, IF YOU ARE:
A Materials Engineer
A Maintenance Engineer
A Production Engineer
A Design Engineer
HOW WE BUILD YOUR CONFIDENCE:
Some samples showing failure modes will be shown
Video content, workshops and case studies will be used to reinforce the subject matter
Comprehensive lecture notes are provided
THE BENEFITS FROM ATTENDING
By the end of this course, you will feel confident in your understanding of:
Basic metallurgical theory
A knowledge of some alloys frequently used in the oil industry
Corrosion theory and corrosion problems in the oil industry
Failure mechanisms
Types of failure in the oil industry
TOPICS:
Introduction to Metallurgy
What is Metallurgy?
Crystal structures and their importance
Phase diagrams and phases in metals
Properties of metals
- Mechanical and physical properties
- Introduction to mechanical testing techniques
Heat treatment theory and practice
Introduction to some alloys frequently used in the oil industry
Steels, Stainless Steels and Nickel Alloys
Corrosion
Corrosion theory
Types of corrosion
- General corrosion
- Galvanic corrosion
- Pitting
- Crevice corrosion
- Stress corrosion cracking
- Hydrogen Sulphide and Carbon Dioxide
Corrosion Prevention
API specifications and corrosion
Modes of failure and failure prevention
Tensile failure
Ductile failure
Brittle failure
Ductile brittle transition
Fracture toughness
Fatigue
Creep
Hydrogen embrittlement
Liquid metal embrittlement
Metal dusting
Wear Mechanisms
- Galling
- Fretting
- Erosion
- Cavitation
Workshop - Examples of failure mechanisms in the oil industry
Gas turbines
Pumps
Pump Seals
Valves
Pipelines
Gears
Bearings
About the organiser
The HOT Energy Group (HOT) is a technology driven, multidisciplinary and independent organisation serving the energy industry in its pursuit of recovery and field operations optimisation.
We are a multi-award winning training provider of upstream oil and gas training solutions, and we pride ourselves in delivering excellence with each and every course session: Quality is always at the core of what we do.
Our training portfolio covers all stages of the E&P value chain. Our top-notch oil and gas courses, developed and taught exclusively by true experts, have been valued by the industry for over 30 years. The training sessions equip our clients with powerful skills to remain competitive in an increasingly complex petroleum industry.
We accelerate careers and empower people, striving to achieve the best possible results.