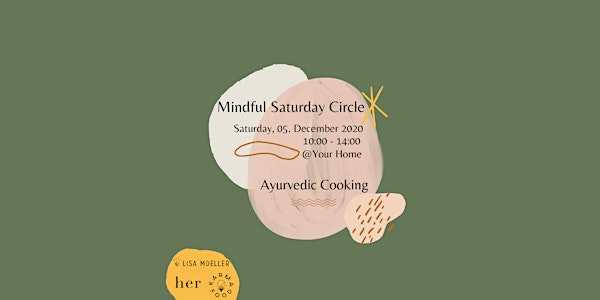 Mindful Saturday Circle ~ Ayurvedic Cooking Class
Mindful Saturday Circle is a safe place to connect - with yourself, other like-minded souls and with the here and now: Ayurvedic Cooking
Refund Policy
Contact the organizer to request a refund.
About this event
Ayurvedic Lunch Cooking Session ~ Karma Food
Es ist täglich unsere Mission Menschen mit Karma Food (noch) glücklicher zu machen - sei es mit leckerem, gesundem Essen, einem offenen Ohr oder einem Lächeln. Mittlerweile gibt es 7 dieser Orte in Wien und Klosterneuburg, wo tagein tagaus nicht nur leckeres Essen, sondern auch jede Menge gutes Karma unter die Leute gebracht wird. Und auch während dem Lockdown bringen wir die Leut' zam, jetzt eben online und in der heimischen Küche.
Wir (Simone & Adi) versorgen laufend mit neuen und vor allem gesunden Rezeptideen, die schnell gehen, vegan sind und Körper sowie Seele nähren. Was gibt es, nach einer mindful Matcha Zeremonie und einer bewussten Schlaf Yoga Nidra Session, Schöneres als wärmendes und wohltunendes Soulfood?
1h Kitchen Fun
Let's get cooking! Koch mit uns gemeinsam ein herrliches Ayurvedic Kitachari ~ vegan ~ glutenfrei und ein richtiger Immun Booster!
Wir schicken dir vorab die Einkaufsliste und welches Equipment für unsere gemeinsame Kochsession gebraucht wird. Natürlich verraten wir dir viele hilfreiche Kitchen Hacks & wertvollen Ayurveda Wisdom (wie du dein Kitchari individuell auf dein Dosha abstimmen kannst, unsere besten Tipps für den Winter) Und das Beste ist, nach unserer Cooking Session könnt ihr einfach genießen!
Den Zoom Link zum Event bekommst du 24h vor dem Event via Email zugesendet.
Dieser Online Workshop ist Teil des Mindful Saturday Circle #1
Gerade in Zeiten wie diesen heißt es 'Open your Circle' und deshalb veranstalten wir gemeinsam mit her collective und Lisa Mueller unseren ersten Online Mindful Saturday Circle.
Wir entfliehen für einen Vormittag lang unserer daily (Lockdown)Routine und verbinden uns (literally via Zoom) für ein paar Stunden voller 'Zen Moves, Spiritual Circles, Good Vibes & Yummy Food'.
Ein besonderer Tag an dem wir all das vereinen was uns (wieder mit uns selbst) verbindet: Morning Ritual Matcha Ceremony, Yoga Nidra & Ayurvedic Healthfood.
Was dich sont alles erwartet
10:00-11:00 Connect & Self-reflect ~ Matcha Ceremony ~ Lisa Mueller
11:30-12:30 Focus, Rest & Be Moved ~ Flow & Yoga Nidra Session ~ her collective
13:00-14:00 Taste & Experiment ~ Ayurvedic Lunch Cooking Session ~ Karma Food
Jeder Workshop kostet einzeln 19 Euro für 45 Euro kannst du an allen 3 Online Workshops teilnehmen.
Hier kommst du gleich zu deinem Eventbrite Ticket für alle 3 Workshops.
Wir freuen uns auf Dich!