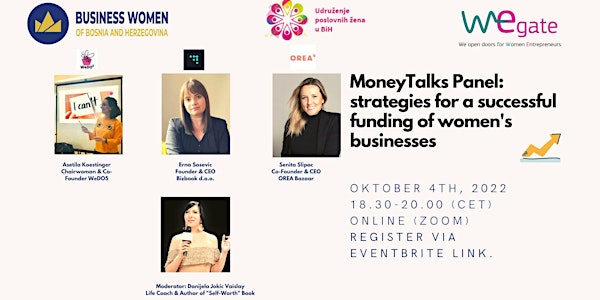 MoneyTalks Panel: strategies for a successful funding of women's businesses
MoneyTalks Panel: strategies for successful funding of women's businesses.
About this event
Business Women of Bosnia and Herzegovina (www.bhwomen.org) in collaboration with the WeGate Summit 2022 (www.wegate.eu) is organizing an October 4, 2022, at 18:30 CET online event: MoneyTalks: strategies for successful funding of women's businesses.
As an Association with a unique position of being based in the EU and having strong connections with Western Balkan countries' female-based entrepreneurs, Bosnia and Hercegovina (BiH) in particular, we are going to discuss strategies for funding, current, and future practice, and what our panelist experiences in starting and growing their businesses in EU and outside EU. We will discuss innovative solutions coming from B&H, where we see an awakening in Bosnia and Herzegovina, associations are forming and we will hear about developments in innovative markets.
An international expert panel, an online event (via zoom or any platform you use as well) in English in the duration of 90 minutes plus Q&A, and out of our experience timewise 18.30 CET would be a good time for it. As it is mentioned the event should be carried out during the period 3 – 18 October 2022. The final date we can agree upon once we get the confirming feedback from you.
Guests:
Senita Slipac: Co-Founder & CEO // OREA (Bosnia and Herzegovina)
LinkedIn profile: https://www.linkedin.com/in/senita-slipac-94a5775/
She recently participated in the SWISS EP Swiss Entrepreneurship Programm and her company OREA BAZAR got the investments two weeks later.
Erna Sosevic: Founder and CEO at Bizbook d.o.o.│Advisory Board Member for Women Entrepreneurship for UN Women B&H│Chapter Lead Sarajevo for SoGal Foundation NY | Startup Advisor | Lecturer
(Bosnia and Herzegovina)
More about Erna:
https://www.linkedin.com/in/ernasosevic/
Asetila Koestinger: Innovation Economist seeking 🦓Zebra startups & 🐝 around the world 🚀 High-end business coach on Sustainability, Innovation, Internationalisation, ResponsibleMarketing Speaker| Founder| Changemaker| Geothermal Energy💚
(Austria)
LinkedIn profile: https://www.linkedin.com/search/results/all/?keywords=asetila%20koestinger%20von%20sonnenland%20%F0%9F%8C%8F&origin=RICH_QUERY_TYPEAHEAD_HISTORY&position=0&searchId=af8e3463-7c92-43ba-9162-fd51bfb06623
We look forward to hosting this event, and getting the opportunity to hear firsthand from these amazing and inspiring women who are true role models when it comes to financing and funding their businesses and offering support to the other women along the way!
Under the motto "Women supporting women" which we use a lot in our association we would like to bring together and hear different practices: what entrepreneurs experience in the EU vs. for example in Bosnia and Hercegovina. We also see an awakening in Bosnia and Herzegovina, there are associations forming and we would like to hear more about that.
Moderator: Danijela Jokic Vaislay- https://www.linkedin.com/in/danijelajokicvaislay/
She is a Life Coach, founder of online magazine www.sretnazena.com and Online Life Coaching Academy 'Ajna', author of 300+ articles on personal growth, and multiple self-help books. She is passionate about helping women to increase self worth and self confidence, reprogram their limiting beliefs about self and money, so that they can tap into their full potential and transform their self image, their life, and their money story. Her advices on mindset, success, and increasing self worth and confidence had been featured in COSMOPOLITAN, SENSA, TIMES OF INDIA, The Huffington Post, The Ladies Coach, et AI.