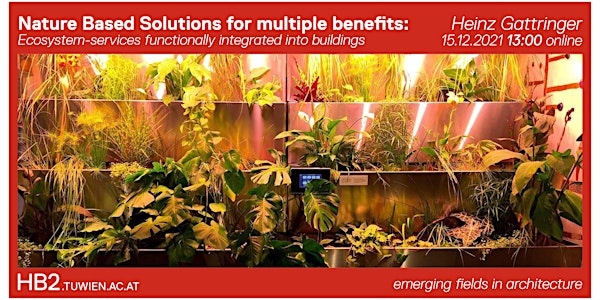 Nature Based Solutions for multiple benefits | Heinz Gattringer
Materials and Technologies: Nature Based Solutions for multiple benefits: Ecosystem-services functionally integrated into buildings
About this event
Lecture by Heinz Gattringer
Nature Based Solutions for multiple benefits: Ecosystem-services functionally integrated into buildings, on the example of wastewater treatment and indoor air conditioning
In the frame of the Module Emerging Fields in Architecture (++), HB2, TU Wien
++
The module Emerging Fields in Architecture imparts current knowledge from new research fields in architectural and engineering disciplines, with the aim of dealing with current and future design challenges in a broader social context in an interdisciplinary and fundamental way. The lectures impart knowledge about different and interdisciplinary approaches to design, current developments and results of material and construction research, about planning and building under/in extreme conditions as well as about structures that change or develop due to changing parameters.
In this context, strategies for design (from the initial idea to implementation) are questioned in an interdisciplinary discourse, and the question of how the path from idea to realisation can be shaped and to what extent it is possible to be systematically creative is explored. In the practical part, an independent cross-thematic examination is to be carried out.
Heinz Gattringer, born in Bolivia in 1971, studied biology, agriculture and tropical plant production in Graz and Vienna and at the Hochschule Geisenheim in Germany. Afterwards more than 10 years working experience in cash crop production in Ecuador. Since 2007 researcher and developer at the private research company alchemia-nova GmbH in Vienna. Starting with sustainable production of renewable resources, he moved to intelligent cascading use of plant based resources to bio-mimicry and finally into nature based solutions. Inventor and patent holder on several solutions where plants are used to perform technical services for several processes, including bringing eco-system services to buildings.
Organizer of Nature Based Solutions for multiple benefits | Heinz Gattringer