Dieses Event ist beendet.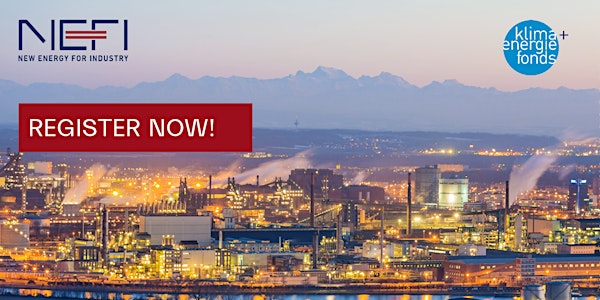 NEFI KONFERENZ 2022– NEW ENERGY FOR INDUSTRY
Experts from politics, research and industry will discuss social, political and technological changes for a climate-friendly industry.
Zeit und Ort
Veranstaltungsort
Redoutensäle 39 Promenade 4020 Linz Austria
Karte und Wegbeschreibung
Zu diesem Event
International Expert talks with representatives from politics, research, and industry
Scientific Exchange on the decarbonisation of the industrial energy system
Presentations and Scientific Paper Awards
In Europe, the order of the day is climate neutrality by 2050. Austria wants to go ten years ahead and become climate neutral by 2040. To achieve these goals, we will need more than mere lip service. New processes, new efficiency, and innovations will be required – that became clear at the first scientific conference of the NEFI Innovation Network. Due to the great interest and the outstanding importance of transforming the industrial energy system, the NEFI-Innovation network organises the second scientific NEFI-Conference from October 13-14, 2022 in Linz.
As part of the two-day conference in the Redoutensäle, Promenade 39, 4020 Linz, in the city center of Linz, experts from politics, research and industry will discuss the social, political and – above all – the technological changes for a climate-friendly industry. In the scientific sessions concrete solutions and first findings from the 17 NEFI projects will be presented.
Call for Papers: The scientific experts have the opportunity to submit their scientific papers from March 2022 till August 1, 2022. During the conference, the best contributions will be selected and awarded by a a specialist jury.
Main topics: The two-day event puts its focus on the NEFI innovation fields for the decarbonisation of the industrial energy system.
Technological fields of innovation: Energy efficiency and new processes, renewable energies, storage, and Demand Side Management (DSM), industry and grid.
Systemic fields of innovation: Regulatory framework and policy, system solutions and infrastructure, and new business models.
We will announce the detailed program and the possibility of registration here in the coming weeks. Please make a note of 13-14 October, 2021.
The conference dinner and Young Scientist Award ceremony, will take place on October13 2022, Start 18:30 at Ars Electronica Linz GmbH & Co KG / Skyloft , Ars-Electronica-Straße 1 , 4040 Linz. Please specify bindingly with the registration if you would like to be at the conference dinner.
Participation is free of charge.
NEFI – New Energy for Industry is grouped around a consortium including the AIT Austrian Institute of Technology, Montanuniversität Leoben, OÖ Energiesparverband and Business Upper Austria, the business agency of the Upper Austrian Government. It was created to drive forward the industrial energy transition. NEFI is an energy model region funded by the Austrian Climate and Energy Fund and supported by the Federal States of Upper Austria and Styria.
If you have any questions, please feel free to contact the conference team at conference@nefi.at.