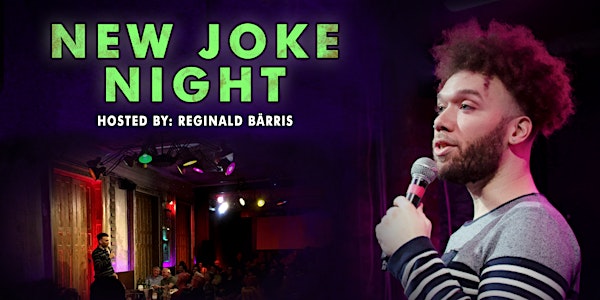 New Joke Night! (English Stand-up Comedy)
Vienna's longest-running English stand-up comedy open mic!
When and where
Location
Kramladen 39-40 U Bahn Bogen 1080 Wien Austria
Refund Policy
Refunds up to 7 days before event
About this event
𝗩𝗶𝗲𝗻𝗻𝗮'𝘀 𝗹𝗼𝗻𝗴𝗲𝘀𝘁-𝗿𝘂𝗻𝗻𝗶𝗻𝗴 𝗘𝗻𝗴𝗹𝗶𝘀𝗵 𝗰𝗼𝗺𝗲𝗱𝘆 𝗼𝗽𝗲𝗻 𝗺𝗶𝗰! 𝗔 𝗳𝘂𝗻 𝗺𝗶𝘅 𝗼𝗳 𝗽𝗿𝗼𝗳𝗲𝘀𝘀𝗶𝗼𝗻𝗮𝗹𝘀 𝘄𝗼𝗿𝗸𝗶𝗻𝗴 𝗼𝗻 𝗻𝗲𝘄 𝗷𝗼𝗸𝗲𝘀 𝗮𝗻𝗱 𝘂𝗽-𝗮𝗻𝗱-𝗰𝗼𝗺𝗲𝗿𝘀 𝗵𝗼𝗻𝗶𝗻𝗴 𝘁𝗵𝗲𝗶𝗿 𝗰𝗿𝗮𝗳𝘁!
Are you the "funny friend?" Have you ever wanted to try stand-up comedy? Now's your chance! Or maybe you just want to sit in the audience and enjoy the show--either way, we've got you covered! The first half of the show will feature some familiar faces working on new material, and there will be plenty of space for newcomers. But either way, you're guaranteed to hear something new! The second half of the show will be a longer set by pro comedian Reginald Bärris (USA)!
Join us as we welcome more aspiring comedians into the comedy community! And if you want to perform, it's as simple as typing "Spot, please" into the event discussion!
𝗗𝗼𝗼𝗿𝘀 𝗢𝗽𝗲𝗻: 20:00
𝗦𝗵𝗼𝘄 𝗦𝘁𝗮𝗿𝘁𝘀: 20:30
Door Price: 13€ (incl. VAT)
Or you can get a 𝗙𝗥𝗘𝗘 𝗧𝗜𝗖𝗞𝗘𝗧 by joining our 𝗣𝗮𝘁𝗿𝗲𝗼𝗻 at the VIP Tier: www.patreon.com/TheReginaldBarris
**Pre-sale Ticket holders can skip to the front of the line to check in and get first pick at seats. Tables cannot be reserved in advance. Tickets are available at the door once pre-sale ticket holders have been admitted.**