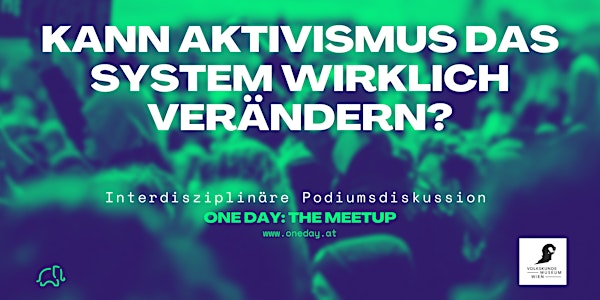 ONE DAY: The Meetup - Kann Aktivismus das System wirklich verändern?
Interdisziplinäre Podiumsdiskussion über Aktivismus und Systemwandel (Open-Air!)
When and where
Location
Austrian Museum of Folk Life and Folk Art 15-19 Laudongasse 1080 Wien Austria
Refund Policy
Contact the organizer to request a refund.
About this event
Menschen kommen zusammen, um zu zeigen, wofür sie sich einsetzen und für welche Werte sie einstehen: Proteste für den Klimaschutz, gegen Rassismus, (gegen) Covid-19-Bestimmungen, gegen oder für Gesetzesänderungen... Proteste scheinen heutzutage das wichtigste Instrument sozialer Bewegungen zu sein. Aber sie sind bei weitem nicht neu: Bereits seit dem 16. Jahrhundert gibt es Unruhen, Revolutionen und zivilen Widerstand.
Aber die eigentliche Gretchen-Frage ist immer noch dieselbe: Können Proteste und Aktivismus das System wirklich verändern? Was ist dieses System eigentlich und warum lehnen sich Menschen dagegen auf? Falls es möglich ist, wie?
🎤 Auf diese Frage suchen wir mit Expert*innen, Journalist*innen und Aktivist*innen nach Antworten und wollen Proteste aus systemwissenschaftlicher Perspektive analysieren.
👉Wo – Volkskundemuseum Wien
Laudongasse 15–19, 1080 Wien
👉Wann - 13. September, 18:00
Das Programm:
18:00: Check-in
18:30: Podiumsdiskussion -
Vortragende: Dr. Simone Gingrich, (BOKU)
Brigitte Grahsl (Klimavolksbegehren)
Moderatorin: Verena Mischitz (Der Standard)
19:30: Gemütliches Zusammensitzen mit Drinks und Snacks
Mehr Informationen: https://www.oneday.at/themeetup/
Ticketpreise:
Online Ticket - 5 EUR
Abendkassa - 7 EUR
Es gelten die aktuellen Corona-Regeln. Aktuelle Maßnahmen in Wien: https://www.sozialministerium.at/Informationen-zum-Coronavirus/Coronavirus---Aktuelle-Ma%C3%9Fnahmen.html
// Wer kann mitmachen? Alle! Unser Ziel ist es, eine möglichst vielfältige Community zu schaffen. Daher sind wir offen für Teilnehmer aus allen Bereichen. Egal, ob Sie Student*in, Ingenieur*in, Berater*in, Künstler*in, Lehrer*in, Profi oder anderweitig sind, bei uns sind alle herzlich willkommen!
Die Teilnahme ist kostenlos für Community Mitglieder. Werde Teil der Community hier: https://www.oneday.at/community/
// Wer wir sind - ONE DAY ist eine Community und eine jährliche Konferenz zum Systemwandel mit den Schwerpunkten Abfall, Geschlechtergerechtigkeit und verantwortungsvolle Digitalisierung.