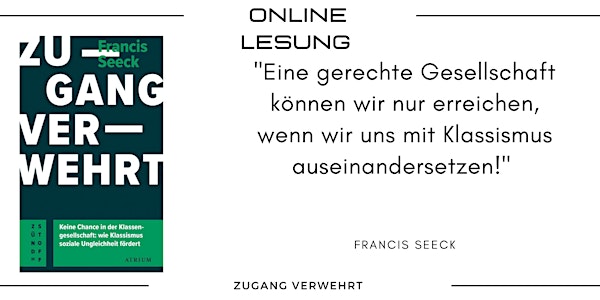 Online-Buchvorstellung
Online-Buchvorstellung von "Zugang verwehrt" von Francis Seeck mit anschließender Diskussion
Refund Policy
Contact the organizer to request a refund.
About this event
"Diskriminierung aufgrund von Klassenherkunft und Klassenzugehörigkeit passiert ständig, und nicht nur in Form von Vorurteilen gegenüber Erwerbslosen. Klassismus durchzieht unser ganzes Leben: er beginnt schon vor der Geburt und reicht bis über den Tod hinaus...Klassismus lädt Menschen aus dem Kulturbereich aus..." (Francis Seeck). Und genau aus diesem Grund gibt es diese Online-Buchlesung, die für Armutsbetroffene kostenlos ist.
Denn Armut bewirkt von Teilhabe ausgeschlossen zu sein. Und jahrelange Beschämung macht Menschen unsicher, sie bewirkt, dass man sich "fehl am Platz" fühlt. So ging es mir beim Besuch verschiedener Lesungen zu denen ich eingeladen wurde. Deshalb gibt es hier die Möglichkeit teilzuhaben, ohne sichtbar sein zu müssen.
Abschließend noch eine kostenlose Leseprobe, und erhältlich ist das Buch hier: Zugang verwehrt
Freue mich auf euch. D. Brodesser (ar-Mut.com)