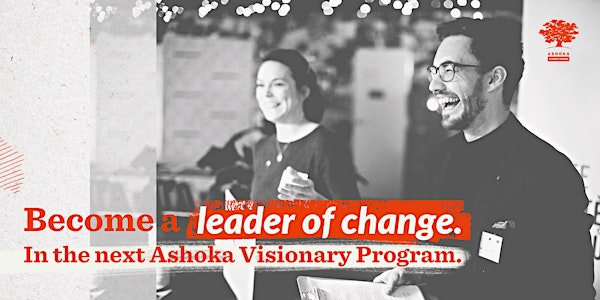 Multiple dates
ONLINE Info Session: Ashoka Visionary Program
+++OPPORTUNITY TO MEET ASHOKA'S PIONEERING LEADERSHIP PROGRAM BEHIND THE SCENES+++
Date and time
April 19 · 5pm - June 20 · 10am CEST
Location
Online Schottenring 16 1010 Wien Austria
About this event
⚡ 𝗔𝗿𝗲 𝘆𝗼𝘂 𝗮 𝗱𝗲𝗰𝗶𝘀𝗶𝗼𝗻 𝗺𝗮𝗸𝗲𝗿, 𝗮 𝗹𝗲𝗮𝗱𝗶𝗻𝗴 𝗰𝗵𝗮𝗻𝗴𝗲𝗺𝗮𝗸𝗲𝗿, 𝗮 𝗽𝗿𝗼𝗳𝗲𝘀𝘀𝗶𝗼𝗻𝗮𝗹 𝗱𝗶𝘀𝗿𝘂𝗽𝘁𝗼𝗿 𝗼𝗳 𝘁𝗵𝗲 𝘀𝘁𝗮𝘁𝘂𝘀 𝗾𝘂𝗼? Are you looking for all the tools (and a community of peers!) to help you lead teams to the highest impact possible and create systems-changing social innovations? Then the Ashoka Visionary Program is for you!
The new application round for the next cohort in Central-Eastern Europe (starting in Oct 2023) is open now and we have organised 3 online info sessions for everyone who wants to know more:
🌐 𝗗𝗔𝗧𝗘𝗦 & 𝗟𝗜𝗡𝗞𝗦 𝗧𝗢 𝗧𝗛𝗘 𝗦𝗘𝗦𝗦𝗜𝗢𝗡𝗦:
💬 1) 19. April 17:00-18:00 https://us02web.zoom.us/j/85244961058
💬 2) 16. Mai 14:00-15:00 https://us02web.zoom.us/j/87084343251
💬 3) 20. Juni 09:00 – 10:00 https://us02web.zoom.us/j/84987926879
𝗞𝗘𝗬 𝗙𝗔𝗖𝗧𝗦:
✔️ Receive hands-on, interactive learnings on everything from social innovation, system change, new leadership to the art of storytelling from the whole spectrum of Ashoka's global expertise; and reflect on your changemaker journey
✔️ Meet some of the world's leading social entrepreneurs, pioneers of social innovation and change, representatives of big foundations and business leaders as expert speakers
✔️ For and with executives and leaders of change from all sectors accelerating social impact initiatives in their environment (both entre- and intrapreneurs)
✔️ Part-time-program of 9 months, with 7 modules of 2 days each (Friday – Saturday), work with an Ashoka Fellow or other leading social entrepreneur on a challenging assignment OR develop and design your own social entrepreneurship initiative
✔️ EUR 10,000 excl. VAT, Early Bird until April 30, 2023 (save 1.000 EUR)
👉 𝗝𝗼𝗶𝗻 𝗮 𝗻𝗲𝘄 𝗴𝗲𝗻𝗲𝗿𝗮𝘁𝗶𝗼𝗻 𝗼𝗳 𝗹𝗲𝗮𝗱𝗲𝗿𝘀.
𝗙𝗶𝗻𝗱 𝗼𝘂𝘁 𝗺𝗼𝗿𝗲 𝗮𝗻𝗱 𝗮𝗽𝗽𝗹𝘆 𝗻𝗼𝘄: https://ashoka-cee.org/visionary-program/
--------------------------------------
🌍 ABOUT US: Ashoka is the global organisation who has developed the field of "social entrepreneurship" since 1980 and is the first and largest network of system-changing social entrepreneurs (aka Ashoka Fellows). Through the Ashoka Visionary Program we share our exclusive know-how from 40+ years of practice and close to 4,000 fellows from across the world. And create a space for changemakers to connect and create.
About the organizer
Ashoka ist weltweit die führende Organisation zur Förderung von SozialunternehmerInnen (oder Social Entrepreneurs) – Gründerinnen und Gründer, die mit innovativen Konzepten, Kreativität und eigenem Risiko gesellschaftliche Probleme lösen. Seit 1980 sucht und fördert Ashoka in mehr als 70 Ländern Social Entrepreneurs – Frauen und Männer mit innovativen Konzepten zur Lösung gesellschaftlicher Probleme. Durch finanzielle Unterstützung aus der globalen Organisation, Beratung und Netzwerke, hilft Ashoka ihnen ihre Ideen national und international zu verbreiten. Weltweit arbeiten über 3.000 Ashoka Fellows an einer besseren Welt. Mit dem Ziel nicht Profit, sondern gesellschaftlichen Wandel und eine starke, lebendige Zivilgesellschaft zu initiieren. Eine Welt in der jeder ein "Changemaker" sein kann.