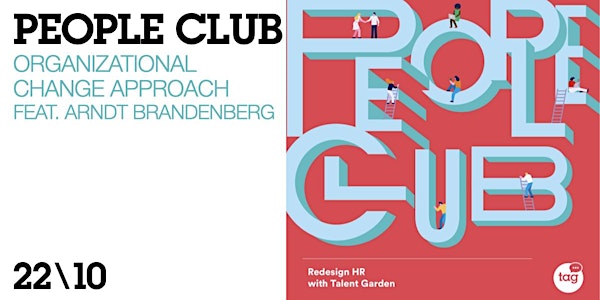 PEOPLE CLUB | Organizational Change Approaches (feat. Arndt Brandenberg)
Do you want to be aware of how our behavior influences the system of our organizations? Arndt Brandenberg will tell us.
Date and time
Thursday, October 22, 2020 · 6 - 8am PDT
About this event
Organizational change usually takes time and effort. At the moment, due to this "New Normal", companies across industries are facing the challenge of making vital, essential and long lasting adaptations in a short time span.
ARNDT BRANDENBERG - system thinker, writer, trusted advisor and transformational conversationalist - will introduce us to the basics of scaling behavioural change in challenging times. Understanding an organisation as a "system", identifying it's blocking mental models are instrumental in successful corporate transformation. In describing how these mental models impact our own day to day behaviour Arndt will profoundly increase our awareness of our own blind spots and how to overcome these. With the motto "Change always starts with me" and seeing catalytic events as "motivational waves" you may create a foundation that will sustainably impact the behaviour of your teams and organization.
AGENDA:
15:00 - 15:15 | Start of People Club Exploration Day #2
Welcome and Innovation School News by Talent Garden
15:15 -15:45 | Organizational Change Approaches
Introduction of Arndt Brandenberg regarding the main topic
15:45-16:15 | Best Practice
Engin Aksu, Head of Resource and Skill Management and NWoW Academy at innogy SE and Arndt Brandenberg
16:15-16:45 I Collaborative Workshop
Facilitated by Petra Hauser, Country Manager Austria of Talent Garden: Reflections of participants, Idea generation, Exchange of Business Experience
16:45-17:00 | Virtual Networking
We are looking forward to continuing this transformational journey with you and see what changes it will bring. To you and to your company!
NOTE: Only People Club members are eligible for a free pass to this event.
ABOUT ARNDT BRANDENBERG
Arndt Brandenberg holds a degree in Business Administration and is Doctor of Philosophy (PhD). He was board member of several European energy players and CEO of RWE Hungaria. As Vice President Change Management at RWE AG he helped leading the overarching RWE Change Journey. As SVP Applied Excellence at Innogy, he acted as program lead NWoW (New Ways of Working) and as Managing Director of Plause, he contributed to build a Silicon Valley Startup for Innogy in the field of corporate transformation. Today Arndt is Managing Partner and Founder of TrustedAdvisors.global, a company that initiates large scale behavioural change within society.
https://www.youtube.com/watch?v=fEg0Q7wZBuY&feature=youtu.be
About the organizer
Talent Garden ist ein europäisches Unternehmen, das Coworking, Aus- und Weiterbildung sowie branchenspezifische Veranstaltungen für die digitale und technische Community anbietet.