Eventinformationen
Veranstaltungsort
Edison
Alser Str 9
1080 Wien
Austria
Beschreibung
The playful way to get to know other people
In this event we are not just mixing and mingling people – but also games! A lot of fun is guaranteed! First, we will break the ice with our usual Slow Dating techniques (if you have been with us, you already know how cool it is). After, we add some table gaming to our evening. Be prepared for classic ones and others that we created specifically for you – a mix of beloved games with a new twist. You get to know all guests from the opposite gender by playing very short fun and easy-going games which nearly don't need explanations. Sometimes you are going to play one to one and sometimes on a table with four people. In such way you get to know a lot of singles in one night.
You don't need to be the perfect board game strategist or a super creative mind, because everything will be very simple, diverse, short - and we will guide you through it. Think like this: the games will be there but most important is to meet new people and enjoy your evening in a relaxed atmosphere.
How does it work?
We'll meet up in a blocked off part of the venue, and food and drinks will be available for you to order. A welcoming drink is included in the ticket.
Registration starts at 7 pm and the program starts right on time at 7:30 pm. You'll participate in playful pursuits which lasts about 2,5 hours. There will be a break half way through the event. After the event there will be still time to mingle with the guests.
You'll also be notified about those interested in you within 48 hours.
More information: slowdatingevents.at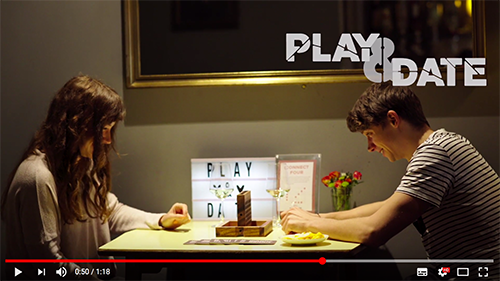 FAQs
If it´s an event for singles, does it necessarily mean that it will be awkward?
Singles tend to have a different lifestyle and Slow Dating Vienna is all about creating opportunities for people with common interests to meet. We offer unique events for singles in Vienna and we are specialists in making our guests feeling welcomed in a great energy environment. We make all the efforts to make it much easier for everyone to feel comfortable and have a good time while meeting new people.
Who is it for?
It's for people in their 20s and 30s, who want to meet other like-minded humans in person. You don't need to be a particular sort of person. The program is though more suitable for those who are eager and open to experience something new. Therefore, we are used to host interesting people with a good energy.
Is this a speed dating?
Slow Dating Vienna works always with a very dynamic structure. There are different themed events that lead us far away from a speed dating frame.
What if I don´t want to take part in an activity?
While the evening is structured, your decision on how you want to participate will always be respected. We are very careful to create a comfortable and respectful enviroment where everybody can feel safe and enjoy a great evening. Although we were always pleased to receive people that acted in accordance to our principals, we shall mention that any inappropriate behavior would never be tolerated.
What is included in the ticket?
Your ticket includes the entertainment program, access to a blocked venue and the matching sheets process. You will also receive a welcoming prosseco.
What is the language of this event?
Hosts will moderate the event in easy-going English. Our assistants are also bilingual (Eng-Ger).
Is the number between men and women balanced?
We´ve always had a nearly-perfect 50/50 gender split in our previous events due to our strict supervision on the tickets sale. Slight differences that do not compromise the program are a possibility due to eventualities with the participants (for example, sickness).
With how many people from the opposite sex I have the chance to meet?
So far, we have always achieved the desired number of people necessary for the good development of the program. The minimum amount of people from the opposite sex that will attend to this event is ten (20 participants in total) and the maximum is 25 (50 participants in total).
Can you guarantee that I will find love in this event?
We are confident that most of our guests consider our events as a positive personal experience. And this is our goal. We create programs so that guests can enjoy a great evening, laugh, learn something new and expand their social network. Sometimes all of this makes a great opportunity for a loose setting to begin great connections.
What do I need to wear?
You can come as you are. We usually see a bit of everything in the same night: skirt, jeans, high hills, tennis shoes, suit, t-shirt, shorts, dress. So what we can recommend is: wear watherver you like and feel comfortable.
When there will be an LGBT version of this program?
We thank heartfully to all of those who incentivate us to proceed with new versions of the current program. We kindly ask for a bit more patience. We will get there! Meanwhile, for any news you can stay tuned in our newsletter and social media channels.
The tickets are sold out. What can I do?
Very often this problem happens. You can send us an e-mail to .. and we keep you update. Or, you can check in again in a few hours/day. New openings may rely of the possibility to mantain an equal gender balance.
Can I buy a ticket at the door?
Due to our efforts to keep a 50/50 gender balance and other preparation we need to know who is going to participate in our events in advance. That is the reason why only online ticket selling is possible.
This is not my style of event. Are there other type of events?
We work with different themed events for singles. If Silent Dating is not your thing, you can stay tuned for our next events that might suit you better. Find more information on our website: http://www.slowdatingvienna.at/
Do I need my ID?
Yes, please bring your ID. Be aware to buy a ticket that suits your age group.
How can I contact you when I have questions?
Drop us a message: dating@slowdatingevents.at
http://slowdatingevents.at/contact.html
Datum und Uhrzeit
Veranstaltungsort
Edison
Alser Str 9
1080 Wien
Austria
Veranstalter von Play & Date Carnivalspecial (25-39 years)
More effective than Tinder, more relaxed than Speed Dating and more authentic than pick up lines. That is Slow Dating Vienna!
We're putting a modern twist to traditional dating by providing singles with stimulating themed events that not only seek to connect singles together, but also provides unique experiences to enliven personal self-awareness and socializing.