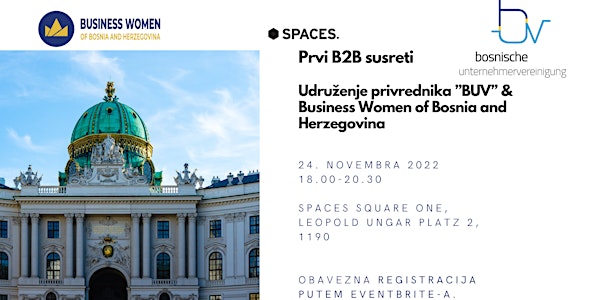 Prvi B2B susreti "BUV" & "Business Women of Bosnia and Herzegovina"
PRVI B2B SUSRETI UDRUŽENJA PRIVREDNIKA "BUV" & UDRUŽENJA "BUSINESS WOMEN OF BOSNIA AND HERZEGOVINA"
When and where
Location
Leopold-Ungar-Platz 2 2 Leopold-Ungar-Platz 1190 Wien Austria
Refund Policy
Contact the organizer to request a refund.
About this event
24. novembar 2022
18:00 - 20:30
Spaces Square One, Leopold Ungar Platz 2, 1190
Zadovoljstvo nam je pozvati Vas na prve poslovne
susrete dva partnerska udruženja: udruženje
privrednika "BUV" Austrija (https://buv.or.at) i
udruženje "Business Women of Bosnia and
Herzegovina" (www.bhwomen.org).
Namijenjeno članicama i članovima oba udruženja.
Ovi poslovni susreti organizovani su eskluzivno za nas
u fantastičnom poslovnom prostoru Spaces Square
One u četvrtak 24. novembra u 18 sati.
Istovremeno biti će prilika da se upoznamo
međusobno, umrežimo te razmijenimo poslovne
informacije o poslovanju privrednog društva ili
pojedinca.
Radujemo se da proširimo svoja znanja, naučimo jedni
od drugih razmjenom iskustava, steknemo nove klijente i
promovišemo svoje biznise.
Umrežavanje stvara nove poslovne prilike.
Na mjestima gdje se okupljaju poslovni ljudi
dogovaraju se poslovi i partnerstva i razvijaju
nove poslovne ideje.
Sva privredna društva ili pojedinci će imati
priliku da se predstave kroz kratku prezentaciju
u trajanju od 2 minute.
Nakon uspješne prijave putem Eventbrite linka,
detalji za pripremu prezentacije će biti
proslijeđeni putem e-mail-a.
CIJENA: 15 € PO OSOBI.
CATERING: ŽELJO VIENNA, FERHATOVIC AUSTRIA
PRIJAVE OTVORENE DO 10.11.2022.
*Update: Prijave otvorene do 14.11.2022.*