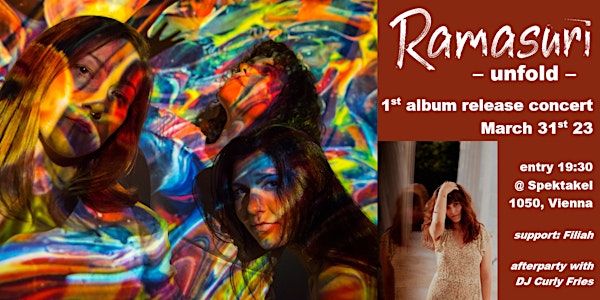 RAMASURI - 1st album release party @ Spektakel, w/ FILIAH
Vienna-based all-female trio Ramasuri presenting their debut album 'unfold' in an acoustic set at Spektakel Vienna on the 31th of March 2023
Datum und Uhrzeit
Beginn am Fr., 31. März 2023 19:30 (CEST)
Veranstaltungsort
Spektakel 14 Hamburgerstraße 1050 Wien Austria
Rückerstattungsrichtlinie
Kontaktieren Sie den Veranstalter, um eine Rückerstattung anzufordern.
Zu diesem Event
4 Stunden

Mobile E-Tickets
DEUTSCH:
Ramasuri - 3 beste Freundinnen und Sängerinnen, die gemeinsam Stimmen, Saiten, Tasten und Felle schwingen lassen, um zeitkritisch zu sein. Nach beinahe drei gemeinsamen Jahren und etlichen Single-Veröffentlichungen erscheint nun ihr erstes Album: 'unfold'.
'unfold' ist die Geschichte einer Reise zu sich selbst, die verschiedene Stadien durchläuft: Erkennen, Spüren, Leiden, Kämpfen, Hoffen, Lösen, Freude. Alle drei Mitglieder des Trios Ramasuri befinden sich irgendwo auf diesem Weg, teilen ihre Erfahrungen und gewonnenen Schätze. Wenn man genau zuhört, finden sich in den Geschichten der einzelnen Songs universelle Weisheiten versteckt, die miteinander in Verbindung stehen. Eine Garantie für Gänsehaut und Euphorie!
-----
ENGLISH:
Ramasuri - 3 best friends and singers who let voices, strings, keys and skins swing together, with a view to be time-critical. After almost three years together and several single releases their first album is out now: 'unfold'.
'unfold' is the story of a journey to oneself, going through different stages: Recognizing, Sensing, Suffering, Struggling, Hoping, Solving, Joy. All three members of the trio Ramasuri are somewhere on this path, sharing their experiences and treasures gained. If you listen carefully, you will find universal wisdoms hidden in the stories of each song, connecting to each other. A guarantee for goosebumps and euphoria!
-----
LOCATION:
Theater Spektakel
Hamburgerstraße 14, 1050 Vienna
ENTRY:
pre-sale: 15.-
on the door: 18.-
doors: 19:30, starts 20:00 sharp
-----
RAMASURI
Angelika Zach, Olivia Herzog, Barbara Plank
► instagram.com/ramasuri_music/
► youtube.com/c/ramasuri/
► facebook.com/ramasuri.music
► spotify.com/artist/4sz61BNzj29Eek4VMWRfHL
pic © Carl Dewald 2023
-----
SPECIAL GUEST: FILIAH
"Filiah's music feels like it comes out of a shadow and wraps you in light. The lyrics and her delivery are emotive. There is a substance to her tone that seems like more than words can share." (- Independent Music Reviews)
► bralessmanagement.com/filiah
► instagram.com/thisisfiliah/
► facebook.com/officialfiliah/
► spotify.com/artist/7eDeCweG3x20jhQvvbUkjl? si=rDSLOfufT7Kc9zmPlqa3UA
pic © Tim Primbs 2021
-----
AFTERPARTY @ SPEKTAKEL:
90s Pop & R'n'B music by DJane Curly Fries
Agenda
8:00 PM - 8:45 PM
Filiah on stage
9:00 PM - 10:15 PM
Ramasuri on stage