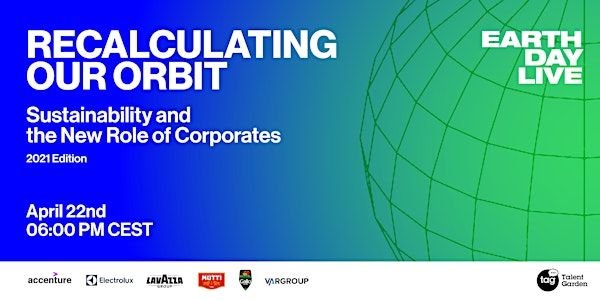 Recalculating Our Orbit: Sustainability and the New Role of Corporates
Join us for the II edition of Talent Garden's Virtual Summit to celebrate Earth Day and discuss the role of Corporates in Sustainability.
Date and time
Thu, 22 Apr 2021 09:00 - 10:00 PDT
About this event
Earth Day, celebrated yearly on April 22, is the annual international day that supports environmental protection and raises awareness on the challenges posed by Climate Change. First celebrated in 1970 in the US, it came as a day of protest against the harmful effects that the industrial expansion was having on the environment.
On the occasion of the 51st anniversary of this day and for the second consecutive year, Talent Garden will be celebrating Earth Day with a special Virtual Summit, to discuss and highlight the growing role of corporates in sustainability, specifically in the agrifood sector. 2021 will be a pivotal year in the promotion and development of sustainable products, supply chains and collaborations - all elements that are crucial for the execution of such ideas and needs.
Noa Segre, Talent Garden Envisioner, will be moderating a round table discussion together with Accenture, Electrolux, Lavazza, Mutti, Riso Gallo and Var Group - leading EU players in the agrifood industry. The discussion will dive deep into the key issues corporates are facing throughout their supply chains, to uncover how they are implementing SDGs and ESG policies to answer to the needs of a new and more conscious consumer.
Takeaways
You will hear first-hand from C-level executives how sustainability is guiding and leading in the definition of business strategies and policies; the implementation of technology and processes; and the production and distribution of products.
You will discover about the best practices that leading EU Agrifood Brands have put in place, not only to answer to their clients needs and requests, but also to promote the planet health.
You will learn how sustainability is perceived and how can we as individuals, companies and ecosystems work together on an international level to create real change.
Agenda
18:00 - 18:05 | Welcome & Introduction | Noa Segre, Envisioner, Talent Garden
18:05 - 18:45 | Round Table Discussion: best practices, SDGs and ESG policies of multinational corporations
18:45 - 19:00 | Open Q&A
19:00 - 19:05 | Closing Remarks
Speakers
Emanuele Preve | CFO, Riso Gallo
Veronica Rossi | Sustainability Manager, Lavazza
Jacopo Romagnoli | Innovation Manager, Var Group
Matteo Frattino | Italy Marketing Manager, Electrolux
Aldo Pozzoli | Principal Director - Sustainability Strategy, Accenture
Michele Laterza | Corporate Communications and PR Manager, Mutti
-
How to attend:
1. Book your ticket via Eventbrite
2. Connect to the link you will receive via email on Thursday, April 22nd at 6:00 PM
3. Enjoy!
-
Talent Garden
Talent Garden offers an unprecedented combination of creative coworking spaces, an internal educational institution and industry-driven events to connect tech talents inside a network of campuses. Founded in Italy in 2011, Talent Garden's mission is to create local, vibrant, globally connected campuses that empower digital and tech communities. Talent Garden is part of Lavazza's community of Coffee Defenders, defending the culture of good coffee in total respect of sustainability.
Learn more on www.talentgarden.org
About the organiser
Talent Garden è la Digital Skill Academy leader in Europa. Si dedica a fornire a individui e organizzazioni le conoscenze, gli spazi e le risorse necessarie per trasformarsi e prosperare nell'ecosistema dell'innovazione. Offre esperienze di apprendimento diversificate con corsi online, offline e ibridi, programmi ed eventi aziendali e una rete di campus che ospita la più grande Community europea di professionisti digital e tech.