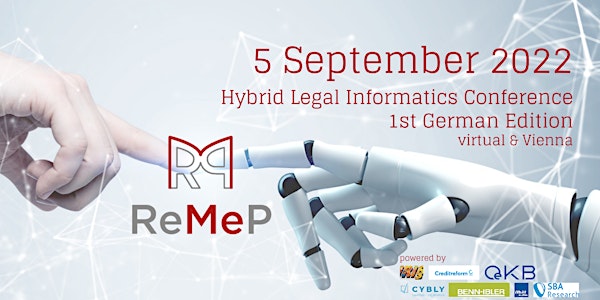 ReMeP 2022 - Annual Legal Informatics Conference, hybrid
ReMeP 2022 - Where Research Meets Practice! www.remep.net
About this event
Due to the volatile COVID-19 circumstances ReMeP provides free tickets for virtual attendance and a limited number of sponsored tickets for physical attendance upon request. Please contact us directly, if your are intested in attending in-person via 2022@remep.net!
ReMeP 2022 - Where Research Meets Practice! www.remep.net
Digitalisation is a buzzword in today's environment. But the LegalTech market revenue 2021 of about 28 billion euros shows that it is more than a hype. It is a promising area for both research and practice. 
Legal informatics itself is not new. It has been around for over 60 years. However, the need to streamline and digitalise processes to remain competitive has increased over the past few years. 
While there is promising research activity, researchers often lack access to prospective users and real-life data to take their projects to the next level. And businesses often look for ways to digitalise specific tasks without knowing the state of research. And without knowing that there might already be a solution under development which can be tweaked to perfectly fit their needs. This is where ReMeP 2022 comes in: ReMeP 2022 will bring the two worlds together to the benefit of both sides. 
ReMeP 2022 - Hybrid Legal Informatics Conference
This year's ReMeP will focus on "Integrated Platform Solutions for Industry 4.0" and feature many interesting workshop, keynotes and panel discussions. We have secured a number of top-notch speakers such as Prof. Georg Borges, Saarland University.
Agenda: September 5th, 2022 - session language: German!
Keynote I by Prof. Dr. Georg Borges, Saarland University
"Automation of Business Relationships in the Industry 4.0"
Keynote II by Prof. Dr. Jörg Schwenk, Ruhr-Universität Bochum
" Implementation of a logistics contract using a smart contract on the Hyperledger Fabric Blockchain"
Presentation I by Daniel Guschauski and Bernhard Linemayr, Creditreform
"Digital Identity in B2B - a different approach to fraud prevention and payment"
Presentation II by Christian Steinlechner, OeKB
"Managing regulatory ESG requirements with the OeKB > ESG Data Hub"
Roundtable I moderated by Prof. Dr. Hans-Georg Fill, University of Fribourg
Discussion and explanation of the Keynotes and Presentations with Q&A session
Workshop by Sebastian Eresheim, University of Applied Sciences St. Poelten
"Current cybersecurity risks and cybersecurity gamification as a training approach to strengthen the understanding of risk in the company."
Live session with two players as attacker and defender of an IT system
Round Table II moderated by Stefan Jakoubi, SBA Research:
"Does management need to take more responsibility in cybersecurity issues?"
As a so-called hybrid event, ReMeP 2022 will combine the best of both an in-person conference and a virtual platform.
Objectives of ReMeP 2022
The conference will connect researchers who wish to present their projects with businesses that are looking for solutions to digitalise certain tasks. There will be ample time to explore a number of interesting and promising legal informatics projects in depth.
Researchers will benefit from real-life feedback on their projects.
And businesses will have a chance to influence the further development of informatics solution and suggest improvements that make the application even more valuable for their businesses.
Target Audience
Researchers and academics who are interested in connecting with and getting feedback from prospective users
Businesses that are looking into IT solutions and want to influence project development to make the solutions even more useful
Students who are interested in legal informatics
Details: www.remep.net