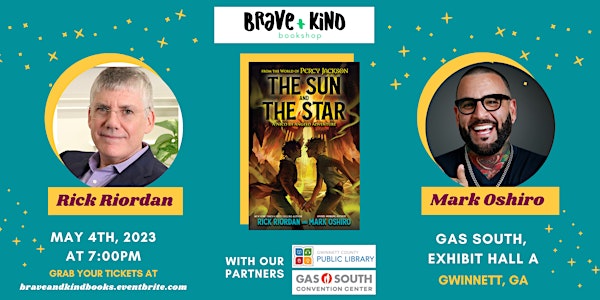 Rick Riordan + Mark Oshiro share THE SUN AND THE STAR
THE SUN AND THE STAR: ATLANTA
Date and time
Thursday, May 4 · 7 - 10pm EDT
Location
Gas South Convention Center 6400 Sugarloaf Parkway Duluth, GA 30097
About this event
A few important things to know about this super awesome event.
Entry into the event comes with a signed book. No one without a ticket would be permitted.
The event will be held at GAS SOUTH's Convention Center Exhibit Hall A. You'll need to show your Eventbrite registration to be permitted.
You'll be given your signed book upon entry.
There will be no signing line & no personalizations.
Tickets are non-refundable and non transferrable.
Children under 14 years of age must be accompanied by an adult and adults must have their own ticket.
If you have any questions for the authors please submit them at check out here on Eventbrite.
Demigods Nico di Angelo and Will Solace must endure the terrors of Tartarus to rescue an old friend in this thrilling adventure co-written by New York Times #1 best-selling author Rick Riordan and award-winning author Mark Oshiro.
Percy Jackson fans, rejoice! Nico and Will have a book of their own!
As the son of Hades, Nico di Angelo has been through so much, from the premature deaths of his mother and sister, to being outed against his will, to losing his friend Jason during the trials of Apollo. But there is a ray of sunshine in his life--literally: his boyfriend, Will Solace, the son of Apollo. Together the two demigods can overcome any obstacle or foe. At least, that's been the case so far...
Now Nico is being plagued by a voice calling out to him from Tartarus, the lowest part of the Underworld. He thinks he knows who it is: a reformed Titan named Bob whom Percy and Annabeth had to leave behind when they escaped Hades's realm. Nico's dreams and Rachel Dare's latest prophecy leave little doubt in Nico's mind that Bob is in some kind of trouble. Nico has to go on this quest, whether Mr. D and Chiron like it or not. And of course Will insists on coming with. But can a being made of light survive in the darkest part of the world? and what does the prophecy mean that Nico will have to "leave something of equal value behind?"
Nico will have to face demons both internal and external as his relationship with Will is tested to the core in this standalone adventure featuring two of the most popular characters in the Percy Jackson saga.
Rick Riordan (he/him) is the author of five #1 New York Times best-selling middle grade series with millions of copies sold throughout the world, including Percy Jackson and the Olympians, The Heroes of Olympus, and the Trials of Apollo, all based on Greek and Roman mythology. For fifteen years, he taught English and history at public and private middle schools in the San Francisco Bay Area and in Texas. While teaching full-time, he began writing mystery novels for adults, culminating in the triple (Edgar, Anthony, and Shamus) national award-winning Tres Navarre series. He turned to children's fiction when he started The Lightning Thief, marking the debut of Percy Jackson, as a bedtime story for his oldest son. In addition to writing, he now serves as publisher of Rick Riordan Presents, an imprint of the Disney-Hyperion Publishing family, specializing in middle grade adventures with lots of humor and action, drawing on myth or folklore. He also serves as an executive producer on the upcoming Disney+ Original series Percy Jackson and the Olympians, which recently wrapped production. Dubbed "storyteller of the gods" by Publishers Weekly, Rick lives in the mortal world of Boston, Massachusetts, with his wife and two sons.
Mark Oshiro (they/them) is the author of three young adult novels, including Anger Is a Gift, winner of the 2019 Schneider Family Book Award, and Each of Us a Desert, an NPR Best book of 2020. They have also written two middle grade books, The Insiders, a Publishers Weekly Best Book of the Year, and You Only Live Once, David Bravo. When not writing, they are trying to achieve their life goal of petting every dog in the world. Mark is based in Atlanta, Georgia.