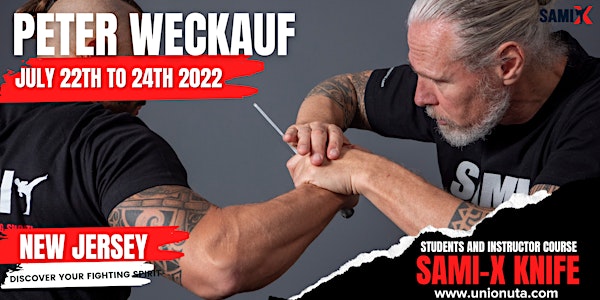 SAMI-X Knife Seminar in Union USA
Intensive Training for Students and Instructors
When and where
Location
Union UTA Martial Arts / SAMI Union 2020 Morris Avenue Union, NJ 07083
About this event
The SAMI-X Knife Instructor course is open to anyone who wants to learn SAMI Combat Systems. The course is suitable for beginners as well as advanced students and instructors who want to become a certified SAMI Instructor.
SAMI-X Knife is a sophisticated close combat system which focuses on the knife and its use for self-defense.
The constant improvement of SAMI-X Knife makes it an effective combat system with modern training techniques.
The main pillars of SAMI-X Knife are the unarmed defense against knife attacks and knife threats, as well as knife combat, prevention and deescalation, the use of different types of weapons (knife, karambit, machete), the tactical use of knives and the athletic knife combat (knife fencing).
Attention: We can only train a limited number of participants.
Details:
3 Day Intensive SAMI-X Knife Instructor Course:
July 22-24 (Friday through Sunday)
10:00am-4:00pm Thursday-Satuday
10:00am-2:00pm Sunday (Test Day)
Prerequisites:
Minimum 20 years of age
No criminal record