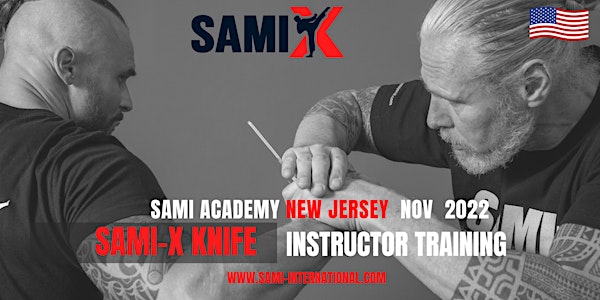 SAMI-X KNIFE Workshop and Instructor Training USA
for Students and Instructors
When and where
Location
Union UTA Martial Arts / SAMI Union 2020 Morris Avenue Union, NJ 07083
About this event
Nov 12- Workshop 12pm to 3pm. Additional Instructor Training 3pm to 4pm
Nov 13- Workshop 10am to 1pm. Additional Instructor Training 1pm to 2pm
This course will cover SAMI-X Knife, including footwork, basic cuts, checking, movement, skill building, combat drills, and knife defense. No experience needed. Higher levels will be separated throughout course.
Additional Instructor Training will cover SAMI Instructor teaching materials.
The SAMI-X Knife Course follows a structured curriculum at the highest professional level designed and approved by SA MI-X founder, Peter Weckauf. The training aims to develop technical skills, tactics, attitude, and of course, convey the principles and techniques of the SAMI System.
Learn more about SAMI Combat Systems at www.sami-international.com
Cost for Seminar is $100 for 1 day or $175 for both.
SAMICS of NJ students (must have an active membership) Use Promo code "Union" for $50 discount
QUALIFICATION AND CERTIFICATION
Joining the SAMI Instructor family is a 2-step process and it is important to understand that completion of any of our instructor courses in itself does not automatically permit you to teach or train others as a SAMI International affiliate under the SAMI brand name.
STEP 1: QUALIFICATION
This is the purpose of this course and after full completion of all required tasks and successfully passing the final examination you will have attained the technical qualification necessary to become certified as a SAMI Instructor and SAMI International affiliate.
An individual qualification is defined for a particular system, at a particular level. For example: SAMI-X Pro Level 1 Candidate Instructor
STEP 2: CERTIFICATION
In order to commercially and professionally teach or train others utilizing SAMI techniques, concepts, training methods, training materials, logos, SAMI brand name, etc. you must be certified and licensed as an affiliate by SAMI International.
A SAMI Instructor License costs €150.00 and must be renewed on a yearly basis. If your SAMI Instructor license expires and becomes inactive then you are no longer certified to teach as a SAMI International affiliate or use SAMI instruction materials.
Whereas Qualification is defined for an individual system and particular level, a single, active Certification covers all your qualifications. For example: if you have instructor qualifications in Knife Concept, Axe Concept and Defender then you require only one active SAMI Instructor License.
You can also join our courses and seminars without taking an exam or the aim of becoming a certified SAMI Instructor. You will then receive a students Diploma or a Confirmation of Participation