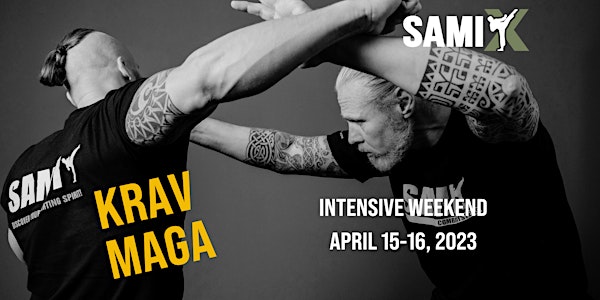 SAMI-X KRAV MAGA CONCEPT Intensive Course
for Students and Instructors
When and where
Location
SAMI Headquarters Vienna Frömmlgasse 31 1210 Wien Austria
Refund Policy
Contact the organizer to request a refund.
About this event
1 day 2 hours

Mobile eTicket
English version below
Warum KRAV MAGA CONCEPT?
Aus drei Gründen.
Krav Maga CONCEPT wurde entwickelt, um auf alle Arten von Aggression richtig reagieren zu lernen.
Krav Maga CONCEPT ist leicht und rasch zu erlernen.
Krav Maga CONCEPT baut auf natürlichen Reflexen auf! Darum zählt es zu den effizientesten Selbstverteidigungssystemen weltweit.
Seminarpreis: Euro 190,-
Seminarzeiten
Samstag 12 - 18.00 Uhr
Sonntag 9 - 13 Uhr
AUSBILDUNG ZUM KRAV MAGA INSTRUKTOR
Für die Ausbildung solltest du einige Voraussetzungen mitbringen. Du solltest gerne mit Menschen arbeiten, sportlich sein und auch gerne unterrichten. Damit hast du schon eine gute Basis geschaffen, um ein guter Instruktor zu werden. Die technische, taktische, didaktische und fachliche Kompetenz erlernst du bei uns. Je nach Vorkenntnissen ist die Ausbildung individuell gestaltet. Unser Ausbildungsprogramm ist modular aufgebaut und wird in über 50 Ländern weltweit bei Behörden, Spezialeinheiten und natürlich für Zivilisten unterrichtet. Abgerundet wird unser Programm noch mit Spezialprogrammen für Kinder, Frauen, Berufsgruppen sowie Zusatzausbildungen wie Pfefferspray, AMOK Training und vielen weiteren interessanten Themen.
Möglichkeit zum Einstieg/Start der Ausbildung:
Der Einstieg in die Instruktorenausbildung ist jederzeit nach Absprache möglich!
Kontakt: office@sami.at oder Tel:+43 664/532 18 54 (Fr. Mag. Irmengard Weckauf-Hanzal)
Vorraussetzungen
Mindestalter von 24 Jahren
keine Vorstrafen
der Wunsch zu lehren
Erfahrung im Unterrichten von Vorteil
QUALIFIKATION UND ZERTIFIZIERUNG
Der Beitritt zur SAMI Instructor-Familie ist ein 2-stufiger Prozess und es ist wichtig, zu verstehen, dass der Abschluss eines unserer Instructor-Kurse an sich nicht automatisch dazu berechtigt, andere als SAMI International-Partner unter dem Markennamen SAMI zu unterrichten oder auszubilden.
SCHRITT 1: QUALIFIZIERUNG
Dies ist der Zweck dieses Kurses, und nachdem Sie alle erforderlichen Aufgaben vollständig abgeschlossen und die Abschlussprüfung erfolgreich bestanden haben, haben Sie die technische Qualifikation erlangt, die erforderlich ist, um als SAMI Instructor und SAMI International Affiliate zertifiziert zu werden.
Eine individuelle Qualifikation wird für ein bestimmtes System auf einem bestimmten Niveau definiert. Zum Beispiel: SAMI-X Pro Level 1 Ausbilderkandidat
SCHRITT 2: ZERTIFIZIERUNG
Um andere unter Verwendung von SAMI-Techniken, Konzepten, Trainingsmethoden, Trainingsmaterialien, Logos, SAMI-Markennamen usw. kommerziell und professionell zu unterrichten oder zu schulen, müssen Sie als Partner von SAMI International zertifiziert und lizenziert sein.
Eine SAMI Instructor Lizenz kostet 150,00 € und muss jährlich erneuert werden. Wenn Ihre SAMI Instructor-Lizenz abläuft und inaktiv wird, sind Sie nicht länger zertifiziert, als SAMI International-Partner zu unterrichten oder SAMI-Unterrichtsmaterialien zu verwenden.
Während die Qualifikation für ein einzelnes System und ein bestimmtes Niveau definiert wird, deckt eine einzelne, aktive Zertifizierung alle Ihre Qualifikationen ab. Zum Beispiel: Wenn Sie Instructor-Qualifikationen in Knife Concept, Axe Concept und Defender haben, benötigen Sie nur eine aktive SAMI Instructor-Lizenz.
Sie können unsere Kurse und Seminare auch ohne Prüfung oder mit dem Ziel, ein zertifizierter SAMI-Instruktor zu werden, besuchen. Sie erhalten dann ein Studentendiplom oder eine Teilnahmebestätigung.
______________________________________________________________________________________________________
Why KRAV MAGA CONCEPT?
For three reasons.
Krav Maga CONCEPT was developed to learn how to react correctly to all types of aggression.
Krav Maga CONCEPT is easy and quick to learn.
Krav Maga CONCEPT builds on natural reflexes! That is why it is one of the most efficient self-defense systems in the world.
Seminar price: EUR 190.00
KRAV MAGA INSTRUCTOR TRAINING
For the training you should meet certain requirements. You should enjoy working with people, be sporty and also enjoy teaching. You have already created a good basis to become a good instructor. You will learn the technical, tactical, didactic and professional competence with us. Depending on previous knowledge, the training is individually designed. Our training program has a modular structure and is taught in over 50 countries around the world by authorities, special units and, of course, for civilians. Our program is rounded off with special programs for children, women, professional groups and additional training such as pepper spray, AMOK training and many other interesting topics.
Opportunity to enter/start the training:
Entry into the instructor training is possible at any time by prior arrangement!
Contact: office@sami.at or Tel:+43 664/532 18 54 (Mrs. Mag. Irmengard Weckauf-Hanzal)
Prerequisites
Minimum age of 24 years
no criminal record
desire to teach
Experience in teaching an advantage
QUALIFICATION AND CERTIFICATION
Joining the SAMI Instructor family is a 2-step process and it is important to understand that completion of any of our instructor courses in itself does not automatically permit you to teach or train others as a SAMI International affiliate under the SAMI brand name.
STEP 1: QUALIFICATION
This is the purpose of this course and after full completion of all required tasks and successfully passing the final examination you will have attained the technical qualification necessary to become certified as a SAMI Instructor and SAMI International affiliate.
An individual qualification is defined for a particular system, at a particular level. For example: SAMI-X Pro Level 1 Candidate Instructor.
STEP 2: CERTIFICATION
In order to commercially and professionally teach or train others utilizing SAMI techniques, concepts, training methods, training materials, logos, SAMI brand name, etc. you must be certified and licensed as an affiliate by SAMI International.
A SAMI Instructor License costs €150.00 and must be renewed on a yearly basis. If your SAMI Instructor license expires and becomes inactive then you are no longer certified to teach as a SAMI International affiliate or use SAMI instruction materials.
Whereas Qualification is defined for an individual system and particular level, a single, active Certification covers all your qualifications. For example: if you have instructor qualifications in Knife Concept, Axe Concept and Defender then you require only one active SAMI Instructor License.
You can also join our courses and seminars without taking an exam or the aim of becoming a certified SAMI Instructor. You will then receive a students Diploma or a Confirmation of Participation.