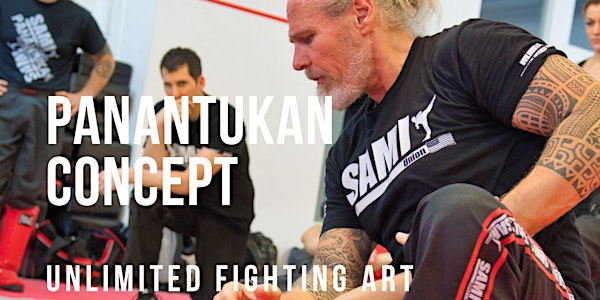 SAMI-X PANANTUKAN Intensive Course
Seminar for Students and Instructors
Zeit und Ort
Veranstaltungsort
SAMI Headquarters Vienna Frömmlgasse 31 1210 Wien Austria
Karte und Wegbeschreibung
Rückerstattungsrichtlinie
Kontaktieren Sie den Veranstalter, um eine Rückerstattung anzufordern.
Zu diesem Event
2 Tage 4 Stunden

Mobile E-Tickets
English version below
Jeder Bereich hat seine jeweiligen Experten!
Dieser Intensivkurs im Panantukan-Konzept ist für Studenten, Ausbilder und Ausbilderkandidaten! Das Training zielt darauf ab, technische Fähigkeiten, Taktiken und Einstellungen zu entwickeln und natürlich die Prinzipien und Techniken des Panantukan-Konzepts zu vermitteln.
Sie lernen, wie Sie erfolgreich Kurse, Seminare, Trainingslager und Weiterbildungen für ihre Schüler durchführen.
Die Teilnehmer müssen keine Vorkenntnisse in Kampfsport oder Selbstverteidigung haben.
Sprache Englisch
______________________________________________________________________________________
Each field has its respective experts!
This intensive Course in Panantukan Concept is for students, instructors and instructor candidates! The training aims to develop technical skills, tactics, attitude and of course convey the principles and techniques of Panantukan Concept.
You learn how to conduct successful courses, seminars, training camps and continuing education for their students.
Participants do not need to have a background in martial arts or self-defense.
Language: English
QUALIFICATION AND CERTIFICATION
Joining the SAMI Instructor family is a 2-step process and it is important to understand that completion of any of our instructor courses in itself does not automatically permit you to teach or train others as a SAMI International affiliate under the SAMI brand name.
STEP 1: QUALIFICATION
This is the purpose of this course and after full completion of all required tasks and successfully passing the final examination you will have attained the technical qualification necessary to become certified as a SAMI Instructor and SAMI International affiliate.
An individual qualification is defined for a particular system, at a particular level. For example: SAMI-X Pro Level 1 Candidate Instructor
STEP 2: CERTIFICATION
In order to commercially and professionally teach or train others utilizing SAMI techniques, concepts, training methods, training materials, logos, SAMI brand name, etc. you must be certified and licensed as an affiliate by SAMI International.
A SAMI Instructor License costs €150.00 and must be renewed on a yearly basis. If your SAMI Instructor license expires and becomes inactive then you are no longer certified to teach as a SAMI International affiliate or use SAMI instruction materials.
Whereas Qualification is defined for an individual system and particular level, a single, active Certification covers all your qualifications. For example: if you have instructor qualifications in Knife Concept, Axe Concept and Defender then you require only one active SAMI Instructor License.
You can also join our courses and seminars without taking an exam or the aim of becoming a certified SAMI Instructor. You will then receive a students Diploma or a Confirmation of Participation