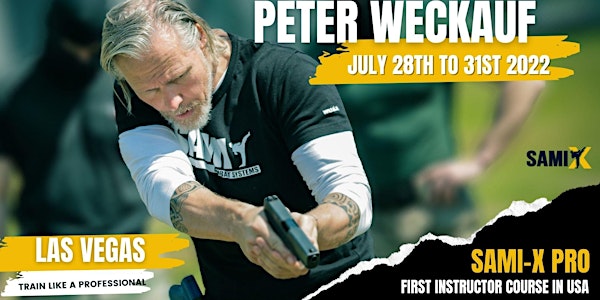 SAMI-X PRO Instructor Course Las Vegas
Law Enforcement Training for Professionals and Instructors
When and where
Location
South Rainbow Boulevard South Rainbow Boulevard Las Vegas, NV 89118
About this event
Train like the professionals! In this course you will learn the same concepts and training methods that SAMI Combat System teaches to authorities and special forces worldwide.
This is the first SAMI-X Pro instructor course in the USA and is open to anyone who wants to learn SAMI Combat Systems. The course is suitable for beginners as well as advanced students and instructors who want to become a certified SAMI Instructor.
Attention: We can only train a limited number of participants.
Details:
4 Day Intensive SAMI-X Pro Instructor Course:
July 28-31 (Thursday through Sunday)
10:00am-4:00pm Thursday-Satuday
10:00am-2:00pm Sunday (Test Day)
The emphasis is training and development of defensive and offensive skills of armed operational forces. Training is oriented to armed defense (incl. Practical and tactical weapon handling) and defense against armed or unarmed attacks by single or multiple aggressors.
This includes unarmed combat, armed combat and practical use of weapons of all descriptions (handgun, rifle, knife, baton, belt, pepper-spray and improvised weapons). Central to the training concept is the proportionality and achieve control over your attacker and / or situation either alone or in a team. Our training is built on a modular system. The main focus is based on a trainings program used by judiciary, law enforcement and the military.
Content
Training methods
Teaching methods
Tactical training for judiciary, military, police, security personnel, armed civilians
Unarmed combat
Armed combat (handgun, rifle, knife, stick/baton, belt, pepper-spray, tonfa, improvised weapons)
Weapon handling
Weapon tactics
Weapon protection
Weapon retention
Weapon defense
Defense with weapons
Armed hostage takers
Struggle for a weapon
Control techniques
Stress and aggression drills
Skill training
Team training
And much more ...
Prerequisites:
Minimum 20 years of age
No criminal record
SATURDAY WORKSHOP - SAMI Knife & Improvised Weapon Training 4:30p-6:30p - INCLUDED WITH COURSE. Taught by Peter Weckauf.
False statements in regard to age or criminal record will result in exclusion from training. The organizer reserves the right to refuse participation at any time without statement of reason.