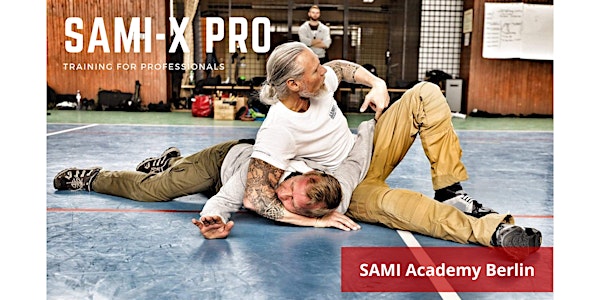 SAMI-X Pro Intensive Course
For Students and Instructors
When and where
Location
SAMI Academy Berlin Donaustraße 83 12043 Berlin Germany
About this event
Wir haben uns mit SAMI-X PRO auf das maßgeschneiderte Training und die Ausbildung von Einsatzkräften und Personen aus dem Sicherheitsbereich spezialisiert. Unsere Kursreihe bietet die Möglichkeit einer fundierten, praxisorientierten und im Einsatz befindlichen Ausbildung. Der Kurs selbst ist in unterschiedliche Levels unterteilt und der Einstieg ist auch jederzeit möglich. Wir legen im Training einen besonderen Fokus auf den verhältnismäßigen Einsatz von Einsatzmittel, die Verbindung von Einsatzmitteln, Waffenhandling, Teaming, Selbstschutz, Einsatztaktiken, Zugriffstechniken, Waffenschutz sowie Drittschutz um nur einige zu nennen.
Instruktorenprogramm – Im Kurs besteht die Möglichkeit die Ausbildung zum SAMI-X PRO Instruktor zu starten oder als Weiterbildung zu nutzen!
Umschulung – Auch die Umschulung für Instruktoren oder die Teilnahme von Instruktoren aus anderen Systemen ist natürlich möglich!
Neueinsteiger – Sie können auch als Neueinsteiger den Kurs zum "Kennenlernen" des Systems nutzen!
Inhalt
Für Anfänger und Fortgeschrittene
- Trainingsmethoden
- Lehrmethoden
- Viele Übungsideen und Trainingsinspirationen
- Taktisches Training für Justiz, Militär, Polizei, Sicherheitspersonal, bewaffnete Zivilisten
- Unbewaffnete Auseinandersetzungen
- Bewaffneter Angriffe (Pistole, Gewehr, Messer, Stock/Schlagstock, Gürtel, Pfefferspray, Tonfa, improvisierte Waffen)
- Einsatzmittel-/Waffenhandling
- Waffenschutz
- Verteidigung mit Einsatzmittel-/Waffe
- Bewaffnete Geiselnehmer
- Kontrolltechniken
- Stress- und Aggressionsübungen
- Skilltraining
- Teamtraining
- Und vieles mehr ...
Mindestens 24 Jahre alt
Kein Vorstrafenregister
Falsche Angaben zu Alter oder Vorstrafen führen zum Ausschluss von der Ausbildung. Der Veranstalter behält sich das Recht vor, die Teilnahme jederzeit ohne Angabe von Gründen abzulehnen.
Seminarpreis: Euro 440,-
--------------------------------------------
The emphasis is training and development of defensive and offensive skills of armed operational forces. Training is oriented to armed defense (incl. Practical and tactical weapon handling) and defense against armed or unarmed attacks by single or multiple aggressors. This includes unarmed combat, armed combat and practical use of weapons of all descriptions (handgun, rifle, knife, baton, belt, pepper-spray and improvised weapons). Central to the training concept is the proportionality and achieve control over your attacker and / or situation either alone or in a team. Our training is built on a modular system. The main focus is based on a trainings program used by judiciary, law enforcement and the military.
Content
Beginner - Level 6
Training methods
Teaching methods
Tactical training for judiciary, military, police, security personnel, armed civilians
Unarmed combat
Armed combat (handgun, rifle, knife, stick/baton, belt, pepper-spray, tonfa, improvised weapons)
Weapon handling
Weapon tactics
Weapon protection
Weapon retention
Weapon defense
Defense with weapons
Armed hostage takers
Struggle for a weapon
Control techniques
Stress and aggression drills
Skill training
Team training
And much more ...
Minimum 24 years of age
No criminal record
False statements in regard to age or criminal record will result in exclusion from training. The organizer reserves the right to refuse participation at any time without statement of reason.
Seminar price: 440,-