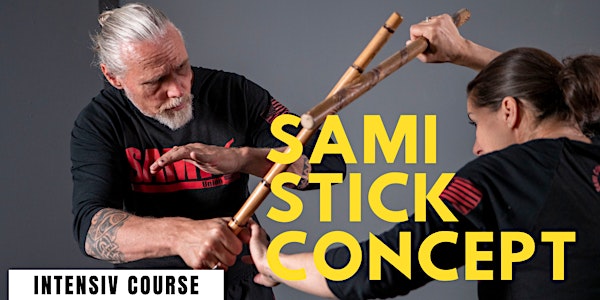 SAMI-X STICK FIGHTING Intensive Course
for Students and Instructors
Zeit und Ort
Veranstaltungsort
SAMI Headquarters Vienna Frömmlgasse 31 1210 Wien Austria
Karte und Wegbeschreibung
Rückerstattungsrichtlinie
Kontaktieren Sie den Veranstalter, um eine Rückerstattung anzufordern.
Zu diesem Event
2 Tage 4 Stunden

Mobile E-Tickets
Wie alle SAMI Systeme ist auch SAMI Stick Fighting Concept gekennzeichnet durch seine Effektivität, hohe Individualität, Ökonomie der Bewegung, Präzision, Timing, Schnelligkeit, seinen Bewegungsfluss und explosive Techniken. Unsere Kampfsysteme bestechen besonders durch ihre klaren Konzepte und Struktur.
Der Kurs selbst ist in unterschiedliche Levels unterteilt und der Einstieg ist jederzeit möglich.
Instruktorprogramm – Im Kurs besteht die Möglichkeit, die Ausbildung zum SAMI Stick Fighting Instruktor zu starten oder diesen als Weiterbildung zu nutzen!
Umschulung – Auch die Umschulung für Instruktoren oder die Teilnahme von Instruktoren aus anderen Systemen ist natürlich möglich!
Neueinsteiger – Sie können auch als Neueinsteiger den Kurs zum "Kennenlernen" des Systems nutzen!
Seminarpreis: Euro 380,-
Inhalt
Trainingsmethoden
Lehrmethoden
Viele Übungsideen und Trainingsinspirationen
Schlagmuster (unterschiedliche Angriffswinkel und Techniken)
Beinarbeit
Angriffsziele
Anwendungsmöglichkeiten
Kombinationen
Drills
Entwaffnungskonzepte und Anwendungen
Uvm.
Seminarzeiten
Freitag 9 - 16 Uhr
Samstag 12 - 18.30 Uhr
Sonntag 9 - 14 Uhr
________________________________________________________________________________________________
Like all SAMI systems, SAMI Stick Fighting Concept is also characterized by its effectiveness, high individuality, economy of movement, precision, timing, speed, its flow of movement and explosive techniques. Our combat systems impress with their clear concepts and structure.
The course itself is divided into different levels and you can start at any time.
Instructor program - In the course there is the possibility to start the training to become a SAMI Stick Fighting instructor or to use it as further training!
Retraining – Of course, retraining for instructors or the participation of instructors from other systems is also possible!
Newcomers – You can also use the course to "get to know" the system as a newcomer!
Seminar price: EUR 380.00
Contents
Training methods
teaching methods
Lots of exercise ideas and training inspiration
Strike pattern (different attack angles and techniques)
footwork
targets
possible applications
combinations
drills
disarmament concepts and applications
etc.
Requirements:
18 years
No criminal record
QUALIFICATION AND CERTIFICATION
Joining the SAMI Instructor family is a 2-step process and it is important to understand that completion of any of our instructor courses in itself does not automatically permit you to teach or train others as a SAMI International affiliate under the SAMI brand name.
STEP 1: QUALIFICATION
This is the purpose of this course and after full completion of all required tasks and successfully passing the final examination you will have attained the technical qualification necessary to become certified as a SAMI Instructor and SAMI International affiliate.
An individual qualification is defined for a particular system, at a particular level. For example: SAMI-X Pro Level 1 Candidate Instructor
STEP 2: CERTIFICATION
In order to commercially and professionally teach or train others utilizing SAMI techniques, concepts, training methods, training materials, logos, SAMI brand name etc. you must be certified and licensed as an affiliate by SAMI International.
A SAMI Instructor License costs €150.00 and must be renewed on a yearly basis. If your SAMI Instructor license expires and becomes inactive then you are no longer certified to teach as a SAMI International affiliate or use SAMI instruction materials.
Whereas Qualification is defined for an individual system and particular level, a single, active Certification covers all your qualifications. For example: if you have instructor qualifications in Knife Concept, Axe Concept and Defender then you require only one active SAMI Instructor License.
You can also join our courses and seminars without taking an exam or the aim of becoming a certified SAMI Instructor. You will then receive a students Diploma or a Confirmation of Participation