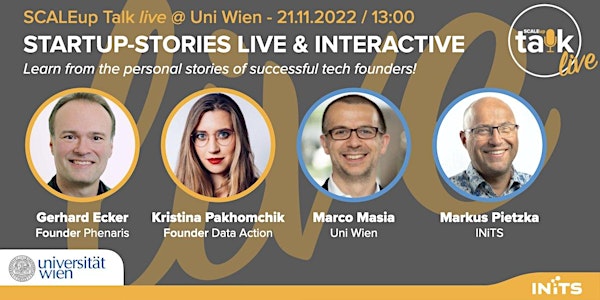 SCALEup Talk Live
Join us for an hour live talk with startup stories, successes and surprises and insights about what you should/should not do as a founder!
When and where
Location
Universität Wien, Marietta-Blau-Saal Universitätsring 1 mezzanine, Marietta-Blau-Saal 1010 Wien Austria
About this event
The INiTS SCALEup Talk is a series of interviews with and about successful technology startups – about innovations, beginnings, challenges, successes and unexpected turns. New and in addition to the original digital forma the SCALEup Talk live comes directly to our partner universities for an interview and discussions with founders and all your questions answered!
Guests:
Gerhard Ecker, Head of Pharmacoinformatics Research Group at the University of Vienna and founder of Phenaris
Phenaris is a spin-off from the Pharmacoinformatics Research Group  dealing with all aspects of molecular modeling with a focus on drug transporter, data mining, and in silico toxicology. Phenaris is an alumnus of the INiTS SCALEup program.
Kristina Pakhomchik, founder of Data Action
Data Action is a startup aiming to increase data awareness through a game and thereby making user decisions transparent and actionable for companies. Data Action is an alumnus of the Digital iLAB of the University of Vienna and currently in the INiTS SCALEup program.
Marco Masia, Technology Transfer Manager and responsible for the Digital iLab program at the University of Vienna
The Digital iLAB is a program of the University of Vienna to bring together top notch research with innovators from all disciplines to develop solutions based on digital technologies.
Markus Pietzka, Moderator, Program Manager START:IP and Startup Consultant, SCALEup Incubation Program at INiTS, Vienna's High Tech Incubator
The SCALEup incubation program is an internationally award-winning program for developing promising business models with selected high-tech startups. In addition, we support them in their growth through financing and networking.
Agenda:
12:45 Registration
13:00 Welcome, short introduction Digital iLab abd SCALEup Incubation
13:10 Interview and discussion
13:40 Q&A and networking
14:00 End
Hosted by: