We invited some of the brightest minds to start a debate on difficult questions the world is facing right now.
About this event
Our grassroots initiative dares to ask the following four questions:
What can the West and the East learn from each other? - Can digital connectivity and IT collaborative innovation lead to less global conflict? Can China deepen technological cooperation with the West in the current geopolitical turmoil? Does Israel want to mediate between China, Russia, and the Western countries?
What brings the future of science and technology in the context of global connectivity in Europe, Asia, and the Americas? What are the latest developments in supercomputing grids, AI and robotics, smart, sustainable cities (including smart grids, urban mobility, drones), or cybersecurity?
Does technology transfer still take place? - particularly between Israel and China (including U.S. "national security" export controls). What´s the impact of sanctions (primary and possible secondary sanctions) arising from the Russia-Ukraine conflict? Furthermore, what is the current status of Israel-China trade and investment relations, the Israeli start-up scene in Tel Aviv, and the global role of incubators, accelerators, seed venture capital, and angel investors? What are Israeli influences on Chinese innovation approaches (and also how are they different (in regards to e.g. state planning and state funding/subsidization)? Is there potential break-up, divestiture, or overregulation of foreign-invested IT leaders on China's e-commerce or social media platforms?
Taking a moment to reflect - is there a practical change all of us can make in response to the challenges and opportunities our increasing connectivity brings?
Abstract:
In 1950, Israel was the first country in the Middle East to recognize the People's Republic of China as the legitimate government of China. However, normal diplomatic relations were not established until 1992. Since then, Israel and China have developed increasingly close strategic economic, military, and technological links. In this opening chapter of the 2022 SILKROAD 4.0 journey, we travel to Tel Aviv to learn more about Israel's rapid transformation into an economic and technological powerhouse and the current state of Israel-China relations in these turbulent times. The focus of this event is on global Digital Connectivity, following the Digital and Maritime Silk Road trade routes.
We will engage with Israeli, European, Chinese, and US thought leaders on global connectivity, Xtended Reality (XR) & VR, supercomputing grids, AI & robotics, smart & sustainable cities, and cybersecurity developments. In addition, we will also touch briefly the technology transfer between Israel and China; and the impact of sanctions arising from the Russia-Ukraine conflict -- against the backdrop of current Israel-China trade and investment relations.
Pre-Programme: (16:00-17:00 CEST)
Dr. Ifeyinwa Kanu, Founder and CEO of IntelliDigest - Inspirational talk: "Empowering Global Food Sustainability"
Jessica Rosner, Founder of Tech It Forward - Inspirational talk: "Update on the Israeli Startup ecosystem & Israeli innovation"
Panelists: (17:00-19:30 CEST)
Matan Vilnai, President of Israel-Asia Chamber of Commerce, President UIBE - Tel Aviv, Former Israeli Minister of Science & Technology, Former Israeli Ambassador to China
Liron Urman, General Manager, Israel-Asia Chamber of Commerce; Co-Founder Women Create Future
Dr. Shuki Gleitman, Chairman Guangzhou International Exchange and Cooperation Center Tel Aviv Office, former Chief Scientist and Director General of Israel's Ministry of Industry and Trade
Dr. Helmut Leopold, Head of Center for Digital Safety & Security, Austrian Institute of Technology; Founder IDSF (International Digital Security Forum)
Dr. Steve Chen, CEO & Founder, Information Supergrid Technologies USA Inc.; former principal designer of the Cray X-MP and Cray Y-MP multiprocessor supercomputers; "One of the nation's most brilliant supercomputer designers" (as noted by John Markoff, technology journalist, New York Times)
Moderators: Prof. Dr. Donald Lewis, Dr. Harvey Dzodin, Dr. Philipe Reinisch
This upcoming SILKROAD 4.0 summit is a part of:
How to join the interactive SILKROAD 4.0 expert discussion?
The events will be live-streamed to YouTube & LinkedIn, a virtual campus (VR) of our research partner network iLRN, in addition to around 15 locations worldwide, where parallel events take place.
In parallel, our in-situ delegation visits thought leaders in the destinations that we are traveling to.
Date: May 30th, 2022
15:45 CEST (Vienna) / 16:45 Israel time: doors open
16:00 CEST: introduction of & networking with local partners worldwide; inspirational talks
17:00 CEST: Start of keynotes including group Q&A / panel discussion
approx. 18:30 CEST: end of live stream on YouTube, Facebook, and LinkedIn Live (public part), discussions continue under Chatham House Rule on Zoom
approx. 19:30 CEST: end of summit, start of local networking
Free access:
VR Venue: iLRN Campus
YouTube
Facebook
LinkedIn Live
Paid participation:
Main Venue (physical): Tel Aviv, Israel
Remote Venues (physical): 12 locations worldwide
Zoom Call: SILKROAD 4.0 Members or paid attendees only*
*) includes access to exclusive Chatham House Rule discussion. Allows raising questions during the event and access to other participants.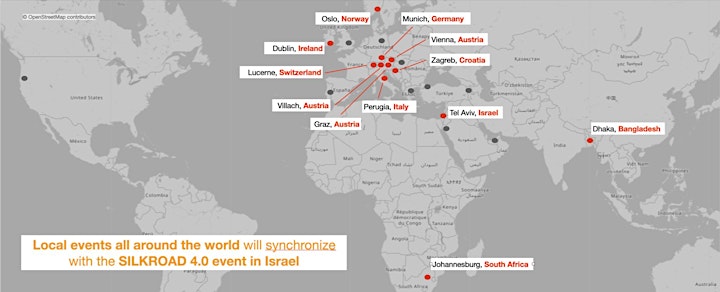 Our interactive event format allows to meet and exchange with leading subject matter experts.
What can Europe learn from China - or China from Europe?
Since its launch in late 2013, China's Belt and Road Initiative has caused a lasting impact on the geopolitical dynamics of the world. China's international connectivity strategy fosters a more balanced, multi-centric world system on a mutual eye level, but leaves many question marks for Westerners. Even experts struggle to comprehend all facets of this strategy.
The SILKROAD 4.0 event series brings together leading experts within their fields, discussing what Europe can learn from China - and China from Europe.
Every event takes place in a different location along the Silk Road and changes focus topic every time.
Paying Participants may actively participate in the discussions during the event.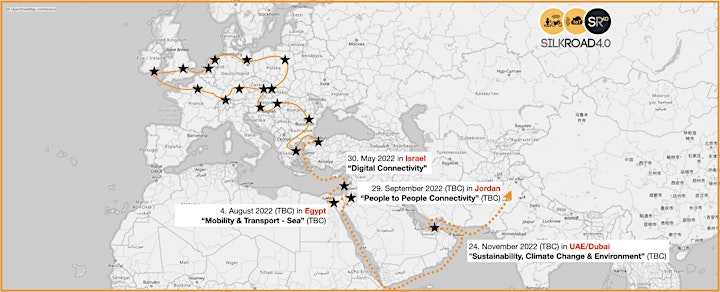 About SILKROAD 4.0
SILKROAD 4.0 is an independent grassroots initiative by civil society and organizes an international series of nomadic gatherings that trace the old and new Silk Road trade routes from a European perspective, inviting other views to join. We connect thought leaders and emerging technologies in different knowledge and cultural ecosystems along our route: a "Nomadic Davos" – a do-tank for the future: Together, we aim to identify the questions worth asking and steps worth taking.