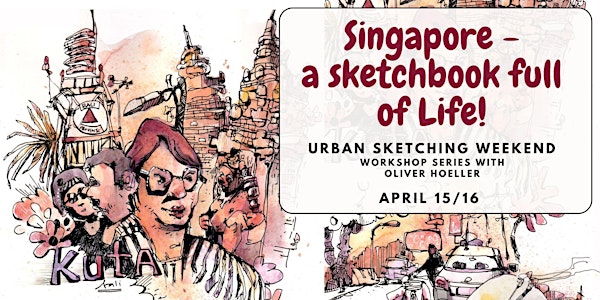 Singapore - a Sketchbook full of Life! Weekend workshop
Spend a weekend learning how to bring more life to your Urban Sketches!
Date and time
April 15 · 9am - April 16 · 4pm +08
Location
Singapore central; exact location to be determined Singapore, 048583 Singapore
About this event
1 day 7 hours

Mobile eTicket
Get ready for an Urban Sketching Intensive. A weekend that can push your sketching skills to the next level!
You want to get more comfortable in your sketching? You want to capture the moments of your life and the places you visit? Yet a big problem for you is how to make your sketches more lively? Commit to a fun and educational weekend with international Urban Sketching Instructor, illustrator and traveling artist Oliver Hoeller and push your skills to the next level!
Over this weekend we'll cover three different aspects of sketching. Each segment contains about 3.5 hours of instruction, demos, short exercises and one-on-one feedback as well as free sketching time and more feedback to apply what you have learned in a larger piece.
You will receive a detailed handout for the ahead of time and for future reference ( ~ 60 pages of knowledge in total for all 3 workshops!).
SATURDAY
Workshop 1. Vignettes full of Life! How to sketch scenes fast, free, direct and with confidence.
Sat, April 15; 9h-12h
In this segment we will start with the basics of sketching. This class is for the total newbie as well as for those who wish to become looser and more confident in putting their lines on paper.
We will cover topics such as what to look for in an object when we sketch it, how to become confident in contour drawing as well as using line weight and texture to add volume and interest. We will also cover how to grow a sketch, setting a focus, simple ways to add value and some color on the go. Most importantly we'll talk about the 'secret ingredient' that has nothing to do with drawing!
This class will consist of many short exercises and demos as well as plenty of time to draw a larger piece synthesizing all that's been covered in the end.
SUNDAY
Workshop 2. Expressive Figures!
Sun, April 16 ; 9h-12h
In this segment we'll play with adding lively people to our vignettes. I will share basic concepts and readily applicable knowledge about various aspects and body parts. We will learn to identify quickly what interests us in a figure and focus to capture this essence with line. We will learn how to 'buy time' with combining and assembling people into a scene – a "Frankenstein" cut and paste method. If there is time, we will add watercolor selectively for interest.
Plenty of individual feedback will be provided. Lots of sketching time! At the end everyone should feel more comfortable about adding people into their sketches.
Workshop 3. Symposium workshop: Design on the Fly!
Sun, April 16; 13h-16h
In this workshop we will learn strategies to combine many disparate elements into an interesting and good looking spread that tells the story of a place. I will introduce techniques to form a rich picture out of individual elements. We will do short demonstrations and exercises to get familiar with the approaches. Students will then draw their own spreads. In the end we will develop our work further and add a center of interest.
At the end of this workshop you will be able to see a world of new possibilities for your scenes!
NOTE: Should there be an unexpectedly large interest in workshop 3, we may open up a second session for it on Saturday afternoon. Get in touch with Oliver (hoelleroliver@gmail.com) if this makes a difference for you.
---------------------------------
INSTRUCTOR
When he was 9 years old, Oliver wanted to be an artist, a scientist and a pirate. He had a gallery in his bedroom and caught salamanders for his terrarium. Fast forward: Oliver holds a PhD in molecular biology, and in 2015 combined his passions: He runs an illustration service focused on sciency topics
Oliver loves most of all to sketch outside and share his knowledge and passion. He is a keen Urban Sketcher, recognized traveling artist and sought after workshop instructor. His published travelogue "No Road In No Road Out: Slowboating the Amazon" was selected as a finalist for the Reportager Award in 2015. His book proposal "The Grand Tourist" received the International Prix du Carnet de Voyage in 2022. He has taught many workshops all over the world and is on his way to teach at the USK Symposium 2023.
He tends to see the humorous and ironic and focusses on telling stories with lively scenes and expressive people
Find more about him here:
Urban Sketchers: Drawing Attention
and if you have any questions, feel free to get in touch: hoelleroliver@gmail.com
-----------------------------------
Just one more thing - please read these frequently asked questions before signing up!
Where will the workshops be held?
The workshops will be held at location(s) in the center of Singapore. Exact location(s) will be set closer to the date.
I am a beginner. What's best for me?
The whole weekend series is suitable for eager beginners. We will build your skills as we go! You may find that there is a lot of material that we cover. Consider the weekend as a workout where you will drink from a fire hose! The handouts will help you to revisit the concepts and practice aspects later.
I have been sketching for a while. What's best for me?
The whole weekend series is very suitable for you. I am sure you will find new aspects to explore in every workshop. In fact, the whole weekend series is probably best for you, because you may be able to absorb the largest amount of information!
Can I take only one or two workshops?
Yes, but be advised that concepts from earlier workshops will not be discussed in depth in later ones. E.g. how to draw loosely and adding watercolors is only a tiny component of the "Expressive Figures" workshop, yet is dealt with extensively in the first workshop.
What if the weather is bad?
In this case the workshops will be held inside. We are doing our best to deal with the weather of the day.
What if not enough students sign up for every workshop?
We are aiming at a minimum of 10 students. If this number can not be reached, that workshop weekend may not be held. If for this, or any other reason, we will need to cancel the event, you will receive a full refund of your fee.
Tickets can not be refunded unless the event is cancelled. However should you not be able to make it, you can transfer your ticket to another person.
-------------------------------
Participants agree that photos can be taken during the workshop for promotional purposes. Also participants waive all liability of the workshop instructor should they hurt themselves during or around the workshop.
Welcome to the 'Singapore - a Sketchbook full of Life!' weekend.