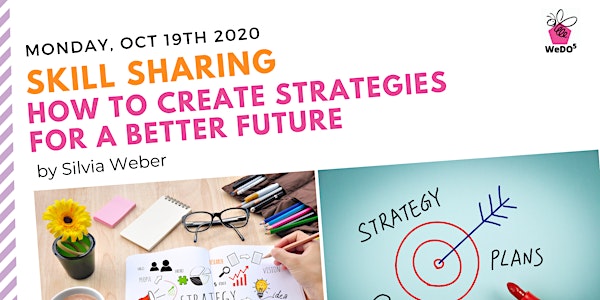 Skill Sharing: How to Create Strategies for a Better Future
Join our interactive group session that will get your creative juices flowing and inspire you to push for change – with empathy!
When and where
Location
Infineon Hub 1-3 Paniglgasse 1040 Wien Austria
About this event
Skill Sharing is WeDO5's newest concept where knowledge must be shared in order to grow together.
Strategy is about making decisions that shape the future. But sometimes you need to convince others to work towards the same future you are imagining. In this interactive session you will be introduced to an ideation framework that is part role play and part problem solving exercise.
We will shine a light on the most pressing issues the world is facing right now and learn how to examine different viewpoints. Challenge your own believes and learn to empathize with all stakeholders involved.
What will you learn?
- How to find solutions to something that seems unsolvable
- The value of taking multiple viewpoints into account
- Use of ideation techniques to create innovative strategies
___
WHEN
Monday, Oct 19th 2020
16.30-18.00
At Infineon Hub at TU Wien
Paniglgasse 1-3, 1040 Wien
___
Silvia Weber is a Creative Brand Strategist and founder of Strategy Workshop (www.strategyworkshop.at). She originally studied design at DIE GRAPHISCHE in Vienna and the LONDON COLLEGE OF COMMUNICATION. For seven years she worked with renowned branding agencies as a designer, brand strategist and client consultant. Since completing her postgraduate degree "Consumer Trend Research" at the IED BARCELONA she creates unique workshop formats combining creativity, trend research and futures thinking.
Her informative articles on medium.com about trend identification, scenario planning and creativity reach creatives and entrepreneurs alike. She loves to interact with people who share her ambition to look beyond the obvious and dare to take on new perspectives.
___
Host: Svitlana Kalitsun.
Svitlana Kalitsun is a trainer at The Negotiation Academy™️. She is a lawyer from Vienna, Austria, with over 10 years of experience in leading law firms and large corporations.
Originally from Ukraine, she studied law and economics at both the University of Vienna and University of Leiden. She negotiates fluently in English, German, Russian and Ukrainian due to her international background and work experience.
In addition to her legal background, Svitlana is a published author, president of the Vienna Speaker's Club and an experienced sales professional. Her NLP and persuasive communication training both serve and enhance her negotiation expertise. Svitlana provides negotiation and communication training to legal professionals, Start Ups and large corporations.
___
*Due to Corona virus restrictions, we only allow max. 9 participants. So secure your place fast! We apply waiting list once the seats are full!