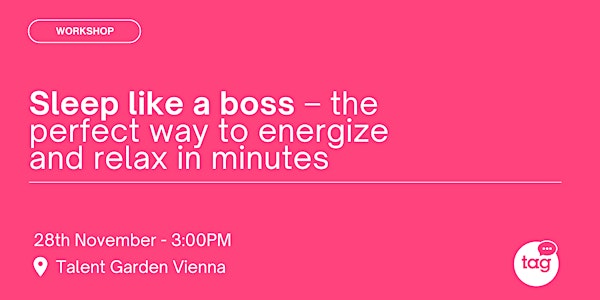 Sleep like a boss – the perfect way to energize and relax in minutes
Enhance your sleep quality, sleep hygiene and learn some nice and easy sleep hacks.
When and where
Location
Talent Garden Vienna Liechtensteinstraße 111-115 1090 Wien Austria
About this event
This workshop is all about your power to sleep well. If you have thought about to enhance your sleep quality, sleep hygiene and learn some nice and easy sleep hacks, this workshop is especially for you.
Sleep Optimisation is the key to a better life and to more overall health. Your business will skyrocket, if you follow the simple rules of how to sleep like a boss.
What we will cover:
Why we sleep and how we sleep in the modern world
Case Studies from VIPs such as Bill Gates, Elon Musk or Jeff Bezos
3 simple hacks to 10x your sleep quality
Analyse some sleep statistics from my clients
About the speaker:
Sleep is the new status symbol.
That's no joke.
Because many people are convinced that they can't afford to sleep much.
You know what?
The opposite is true.
You can NOT afford not to sleep enough.
Top performers sleep a lot and deeply.
The truth is:
Top performers prioritise sleep, nutrition and exercise.
In that order.
So sleep is at the top of the list for a healthy and happy lifestyle.
Can you imagine Christiano Ronaldo standing on the soccer field as an overtired zombie?
No. Of course you can't.
Christiano Ronaldo follows a strict sleep routine.
Sleep is a prerequisite for his professional success.
The same goes for top mental performers like Jeff Bezos.
Jeff Bezoz, when asked how much he sleeps every night, answered like this:
"Eight hours of sleep makes a big difference for me, and I try hard to make that a priority. For me, that's the needed amount to feel energised and excited."
The length and quality of your sleep determines how much energy and zest you have for life.
What we used to take for granted as children - deep adequate sleep - we have unfortunately completely forgotten as we have grown up.
Remember:
Children need good deep sleep.
So do you.
Nothing will change that. No matter how old you are.
Sleep is the greatest lever to increase your quality and joy of life.
You just don't know it yet.
Hello, my name is Felix Weinzinger and I am a professional sleep consultant.
Sounds funny, but it's true.
Linkedin: https://www.linkedin.com/in/felixweinzinger/
Website: https://wachmacher.at