Dieses Event ist beendet.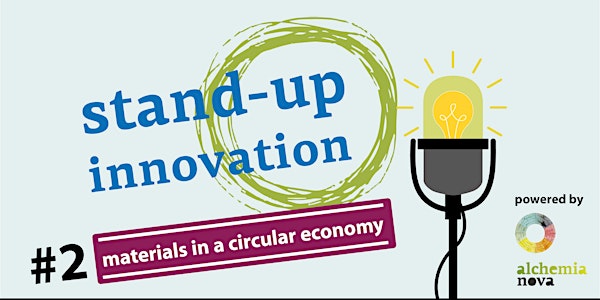 stand up innovation #2: Materials in a circular economy
We all agree that keeping materials in an ideally never ending loop would be ideal, but how can this be done? 3 speakers will show ways.
Zeit und Ort
Veranstaltungsort
Impact Hub Vienna 56 Lindengasse 1070 Wien Austria
Karte und Wegbeschreibung
Zu diesem Event
stand-up innovation is like stand-up comedy, but instead of comedians performing comedy, scientists, pioneer thinkers, and circular economy pundits set the stage for innovative ideas. Ok, we promise they'll throw in a few jokes, too.
Globally, the circular economy movement is gaining momentum, and the Vienna-based NGO, alchemia-nova aims with stand-up Innovation to inspire people to think circular in Austria.
This second event of the stand-up innovation event series is focussing on materials in a circular economy. How will they circulate, what does it need for it? Quality, Infrastructure, customers, new laws, …
Following these fascinating talks, a collective problem-solving session.
++++ Welcome Cocktails with Wiener Dirndl++++
3 INNOVATIVE SPEAKERS :
+ Verena Anger, gugler brand-digital-print
+ Markus Meissner, Pulswerk GmbH
+ Johannes Kisser, alchemia-nova