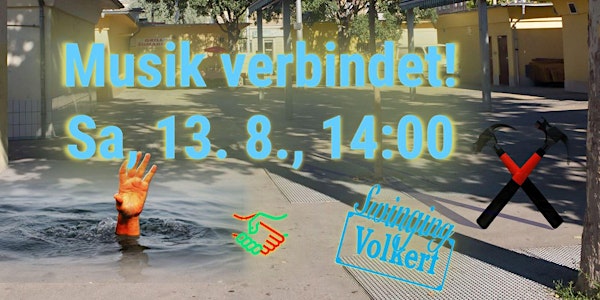 Swinging Volkert (free monthly concert on a marketplace)
Location
Volkertmarkt
Volkertmarkt (venue)
Volkertplatz 9/2 (storage/office)
1020 Wien
Austria
Open air afternoon concert, 2nd Sat in each month (March thru Dec.; 2 to 5 gigs), free access (exc. anti-pandemic safety measures).
About this event
You find each event's program details in German
(Programmdetails auf Deutsch):
on [Swinging-Volkert on facebook],
on [Swinging-Volkert's website],
and the actual one here at the very bottom.
To visitors
(program: see above links, or scroll to image at the bottom)
You can expect drinks and a few dishes (self-cooked, always one vegetarian if not vegan, and mostly some sweet cakes, usually home-baked by friends) for free donation to make sure you have an extra good time listening to live music of many genres. If you miss a style, please do tell us – also, if you know musicians perhaps interested to perform in our local multi-cultural family atmosphere.
And what about your own (secret) wishes to have an audience cheer you? Let's agree upon a gig (even with a humble reward)! If that's going too far, talk to us as well, and we'll start our next event with you in our open mic hour (or some part of it). Stage fright? Consider: (1) there is not even one professional totally without, (2) in our audience, there are only friendly folks who definitely wish to help your courage grow, and (3) we all did go through that, and wish you to share our experience of overcoming it.
To musicians (professional and amateurs)
Wish to perform? Just tell us!
Not your style? Great – because that means you can help expanding our range of genres! Other concerns? Talk to us: finding a solution is said to be easier if the problem is known ... ;-) Expect a fee? There is one! Humble but honest – we collect, people use to donate kindly, and we even manage it in a way you can know the result in advance. No magic, just devotion of association members who do all the cooking, tech stuff, manpower work (carrying and assembling stage, light & sound equipment, tables, benches, tools, fridge, food ... and cleaning) absolutely unpaid. It's a fine obsession (and almost half of us are amateur musicians themselves) being part of a project where passionate and often gifted locals meet experienced performers, occasionally including celebs, in public.
Let's quote a master piano player (with a fine regular employment in this regard) and the members of his brilliant band whom we had the pleasure to present already three times: "At Swinging-Volkert, we find ourselves in best hands, very well cosseted by our new musical family." And Otto Lechner said he just had to visit his former hood, Johann Stojka couldn't wait to face the audience of our cozy, homey event, ...