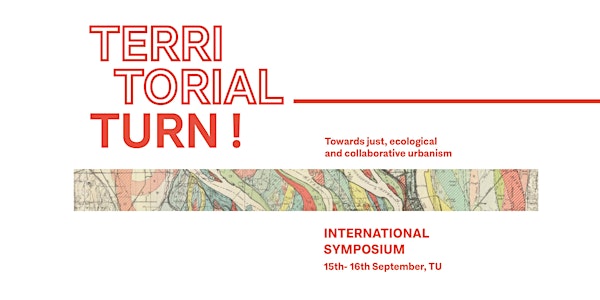 Symposium Territorial Turn!
TERRITORIAL TURN! Towards just, ecological and collaborative urbanism
When and where
Location
TU GRAZ, KOEN - Hall 5, Kronesgasse 8010 Graz Austria
Refund Policy
Refunds up to 30 days before event
About this event
Join us for the International Symposium Territorial Turn! held by the Institute of Urbanism, TU Graz, and elaborate together with our our keynote speakers and presenters on changes, values and framework conditions of urbanism. The discussion on theoretical concepts and ideas, as well as pioneering practical urban design propositions will contribute to actively think, plan, design, and implement an ecological and equitable urban future on a territorial scale.
The symposium Territorial Turn! will take place in Graz on the 15th and 16th of September 2022. The symposium, which is part of the New European Bauhaus Program, will offer 1,5 days of presentations and discussions with international scholars and practitioners of the disciplines of Urbanism, Architecture, Landscape, Planning, Urban Studies and Design such as Susanne Eliasson (GRAU), Stefan Rettich (University of Kassel), Eva Pfannes (OOZE), Paola Viganò (EPFL Lausanne, IUAV Venice), who will present their perspectives on the Territorial Turn. It will also feature testimonies of Ali Madanipour (University of New Castle), Christian Schmid (ETHZ), Maarten Van Acker (University of Antwerpen), Chris Younès (École nationale supérieure d'architecture de Paris La Villette and École spéciale d'architecture), Erik Wieërs (Flemish Government) and Judith Schwentner(City of Graz).
In addition, paper presentations will be followed by discussion panelled with Han Meyer (TU Delft ) and Marcel Smets (KU Leuven), among others.
Territorial Turn! - The need for a paradigm shift.
Urbanism is the art, science and technology of developing human settlements. It is less about the buildings themselves than about their arrangement, relationship to each other, and connection to the environment.
Currently, the pandemic as well as the challenges posed by climate change confront us with the fragility of the built environment and call for a rethinking of the goals and means of urbanism. In the face of immense environmental and social challenges, a paradigm shift in planning and design approaches is needed.
This paradigm shift stands for a holistic, cross-sectoral and networked understanding of space as well as for a close connection of the built environment with living systems - an approach that replaces the predominantly building-oriented attitude in urbanism in favor of an increased appreciation of public space. Here, the space between buildings is understood as essential to environmental and social change. Projects should not be defined by property boundaries, but require planning that is situated in a larger context and integrates existing socio-ecological systems and cycles. This results in large, interconnected urban systems that gain greater resilience through relational structures and transcend the goals of economic progress, modernity, and technology.
The concept of the Territorial Turn! follows the notion of an overarching spatial vision of a just and ecological urban environment with a high quality of life.
For further information please visit our website
https://www.tugraz.at/institute/stdb/aktuelles/territorial-turn/symposium/