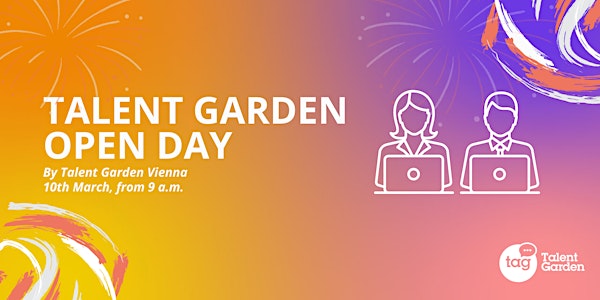 Talent Garden Open Day
By Talent Garden Vienna. Come and experience Talent Garden, enjoy our coworking and network with our community!
Date and time
Thu, 10 Mar 2022 09:00 - 17:00 CET
Location
Talent Garden Austria 111 Liechtensteinstraße #115 1090 Wien Austria
About this event
Happy Birthday Talent Garden Austria!
It's been 3 years since we started our journey to boost innovation in Vienna! Therefore we'll open our doors once again to all explorers and innovators around.
Wanna join?
By signing up for our open day you will have access to our campus from 9am - 5:00pm.
What does that mean?
Come in, find your place inside our inspiring flex area, enjoy a coffee in our café, network with the members of our international community, attend the different activities that we'll organise along our Anniversary Open Day and get a jab of energy in one of the most exciting days of Talent Garden Vienna!
About the Talent Garden Vienna Birthday Agenda:
On March 10th, we'll dedicate the entire day to startups, freelancers and innovative corporates, and more curious attendees that want to step by, including all of you that always took part in our events and our initiatives.
Due to easing Covid regulations, we will be again able to celebrate together with all of you: we want to see you all again, meet up after such a long time and also enjoy one of our famous community aperitivos.
1pm - onwards
Mentoring 1:1 with Martin Giesswein, former general Manager Austria/Adriatics: Nokia Mobile Phones, Exit CEO immobilien.net. His expertise goes from digital strategies, organizational developments and projects to digital business tips and tricks. He has 30 years of experience as a corporate manager, startup entrepreneur, and faculty member of the WU Executive Academy
4 pm - 5 pm
Negotiation class techniques, by The Negotiation Academy. Join the online workshop and discover more about negotiation with real startup business cases
5.30 pm - 6.30 pm
Keynote speech by Martin Giesswein about the founding of Talent Garden Vienna. Special guests: Rudi Bauer from WeAreDevelopers and Antonia Rinesch from Trending Topics
6.30 pm - onwards
Startup get together. Let's share some startups experiences in a friendly environment ;)
talentgarden.org
The event will be held at Talent Garden Vienna.
For people attending on-site the following Corona measures apply:
It will be requested to have a vaccination or 48h negative covid test or past infection certificate.
About the organiser
Talent Garden ist ein europäisches Unternehmen, das Coworking, Aus- und Weiterbildung sowie branchenspezifische Veranstaltungen für die digitale und technische Community anbietet.