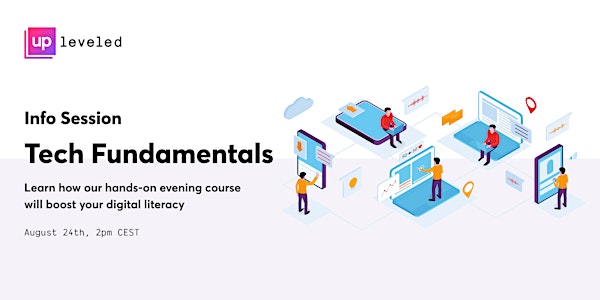 Tech Fundamentals Info Session
Take communication and collaboration with devs and tech teams to the next level and make your projects and processes more efficient.
About this event
We will walk you through the details of how to boost your digital literacy and learn to speak tech fluently.
The course is designed for everyone who wants to get a taste of software development while on the job. It provides a hands-on dive into modern digital processes and practical experience in coding for a better understanding of typical dev tasks in tech projects. 👩‍💻
Sounds awesome - But you've got questions about how this could work for you and your company? 🤔
We are more than happy to give you some insights and answer any open questions.
Some of the things we'll cover:
Is the Tech Fundamentals course the right choice?
What will I learn?
What is UpLeveled's teaching approach?
What if I do not have any upfront knowledge?
Can I join in-person and/or remote?
What happens if I miss a lecture?
What does it take to join?
Let's get together for a relaxed zoom session 💻
How to join?
👉 Register for the event (it's free)
👉 You'll receive an email reminder before the event starts
👉 Click on the button (zoom link) provided in that email
We're looking forward to seeing you online!
Your UpLeveled Team