About this Event
Description
After the main conference in September 2019 (www.the-autonomous.com), The Autonomous together with POSSER SPIETH WOLFERS & PARTNERS (pswp) are hosting a Chapter Event on Safety & Regulation to facilitate discussions among experts to work towards Global Reference solutions for safe autonomous mobility.
Safety & Regulation Chapter Event
The Safety & Regulation Chapter Event focuses on facilitating the discussion among cross-domain experts to unite the efforts towards a common understanding of safety for autonomous mobility. Towards this goal, we are gathering regulatory and governmental bodies, OEMs, semiconductor suppliers, technical services, TIER 1 / TIER 2 and relevant standardization groups to share know-how and debate on the following (but not limited) topics:
Overview of current standardization and regulation process for automated and autonomous driving, e.g., UN/ECE 79, UN/ECE ALKS Draft, UL 4600, EU Mobility Package, EU Guidelines Exemption Procedure Automated Vehicles, Safety First for Automated Driving (SaFAD), etc.
What are the core regulatory requirements autonomous driving systems have to meet to be certified as "safe"? A cross-domain perspective to: "What does "safe" mean to autonomous mobility?"
How can "safety" be measured? What has to be defined in (technical) standardization and (legal) regulation? Could regulation concentrate on core concepts leaving the details to technical standardization?
Agenda (CEST)
1:00pm Opening Remarks
1:30pm Focus 1: Attaining and Certifying Safety in AD - Regulatory Perspective
2:30pm Panel Discussion
3:15pm Break
3:45pm Focus 2: Extending the view – Industry and Standardization perspective for attaining safety
4:45pm Panel Discussion
5:30pm Closing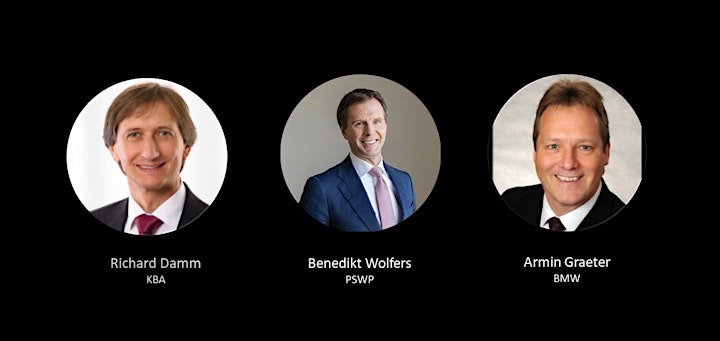 Speakers
Graduate engineer Richard Damm has been President of the Federal Motor Transport Authority since 1 February 2020. He is also chairman of the international expert panel for automated and networked driving of the UN Economic Commission for Europe in Geneva.
Before being appointed President of the Federal Motor Transport Authority, Richard Damm worked at the Federal Ministry of Transport and Digital Infrastructure in Berlin. There he was responsible, among other things, for the introduction of market surveillance of motor vehicles in Germany. Under his leadership, the use of miniature electric vehicles in Germany was also made possible.
Richard Damm is an internationally recognised expert in the field of the worldwide harmonisation of regulations for the approval and monitoring of motor vehicles. Under his leadership, the globally applicable regulations on vehicle regulations were further developed to reduce trade barriers. Richard Damm was also a member of the Board of Directors of the European New Car Assessment Programme, a consumer information programme on the safety level (Euro NCAP) and environmental behaviour (Green NCAP) of new vehicles. His area of expertise also included automation, networking and digitisation issues at EU and UNECE level.
Before joining the Federal Ministry of Transport and Digital Infrastructure, Richard Damm spent five years working on national and European research projects on passive safety and biomechanics of vehicles at the Federal Highway Research Institute.
After a technical education Richard Damm studied mechanical engineering - automotive engineering and product development at the Technical University of Munich.
Benedikt Wolfers is specialized in the national and international regulation of the automotive sector. He has been engaged for many years in the design and approval process for SAE L3 and 4 systems and in the interpretation and development of homologation and road traffic law. He is advising OEMs, semiconductors, tier 1 companies in Europe and the US and has got longstanding experience with national and international regulatory bodies and governments.
He is founder of the new "Berlin Forum Autonomous Driving" which brings together experts from government, parliament, OEMs, tier 1 and 2 suppliers, mobility providers, industry associations, technical services and universities to discuss and provide solutions to core legal topics and obstacles for the new AD technology.
Benedikt Wolfers is founding partner of POSSER SPIETH WOLFERS & PARTNERS (pswp), a law firm specialized in national and international regulation for different industries, notably automotive, energy, finance and infrastructure. pswp was founded in 2018 by a team of highly experienced partners and lawyers with the aim of providing high-quality, national and international advice in the fields of environment, planning and regulation. It has already achieved various first tier rankings. pswp was a spin out from Freshfields Bruckhaus Deringer where Dr. Benedikt Wolfers was a partner in the Berlin office since 2000. Between 2012 and 2018 he was co-leader of Freshfields' worldwide Environment, Planning and Regulatory Group.
Between 2000 and 2017 Benedikt Wolfers advised on various groundbreaking regulatory projects, e.g. in the financial crises on the development of a financial market stabilisation act, structuring and founding of bad banks and on establishing the EU-wide banking levy; in the energy sector on the extension of and exit from nuclear power generation and the follow on constitutional court cases; in the automotive sector on all regulatory issues and disputes of a diesel emissions case in the EU and worldwide.
Benedikt Wolfers has been ranked for many years in various national and international rankings as a "leading individual lawyer in regulatory law" and was awarded the prize of "Innovative Lawyer of the Year" in 2009 by the Financial Times in London. He studied law, politics, philosophy and history at the universities of Freiburg, Munich, Oxford and Berlin.
Armin Graeter is Technical Product Manager Regulation Automated Driving at BMW.
He started 1987 at BMW as Diplom-Wirtschaftsingenieur (University Rosenheim) in different roles of development and marketing
From 2005 he was Project Leader Safety of the BMW Hydrogen7, MINI e and other electric mobility projects. In this framework he was directly responsible for Supplier Safety Audits and Assessments as well as the Whole Vehicle Safety Concept (Passive Safety, Active Safety, Functional Safety and Safety of the Intended Function).
In 2009 he changed to Leader Functional Safety of the BMW Group. He established a safety-oriented development process, finalized ISO 26262 (Predessessor Christoph Jung was worldwide convenor in the ISO process), and established ISO26262 within all BMW Group development areas.
From 2013 he was Leader Strategy Driver Assistance and Automated Driving, Leader of the VDA Working Group Automated Driving, Co-chair of the ERTRAC (European Road Transport Research Advisory Council, advising the EU Commission) Working Group Connected Automated Driving.
Since 2018 Armin Graeter is Technical Product Manager Regulation Automated Driving. While holding the VDA and ERTRAC roles, he coordinates all BMW activities to support the worldwide deployment of SAE automation level 3 (Highway) and prepares large scale testing with users for level 4 (Urban), including broad coverage of homologation, traffic rules, enforcement as well as security, software updates und periodical technical inspection.