The Autonomous Chapter Event Safety & Architecture co-hosted by Fraunhofer IESE
About this event
Description
The Autonomous together with Fraunhofer Institute for Experimental Software Engineering (IESE) are hosting a virtual Chapter Event on Safety & Architecture to facilitate discussions among experts to work towards Global Reference Solutions for safe autonomous mobility.
Safety & Architecture Chapter Event
In the first session, our speakers and panelists will address the topic of dynamic assurance methods for balancing safety and performance in the context of autonomous vehicles.
In the second session, methods for systematically engineering and assuring specification and operation within the Operational Design Domain (ODD) will be discussed.
Agenda (CEST)
1:00pm Opening Remarks
1:20pm Focus 1: Dynamic Risk Management for Autonomous Systems
2:30pm Panel Discussion
3:20pm Break
4:00pm Focus 2: Systematic Engineering of Operational Design Domains for Autonomous Systems
5:00pm Panel Discussion
5:50pm Closing
Speakers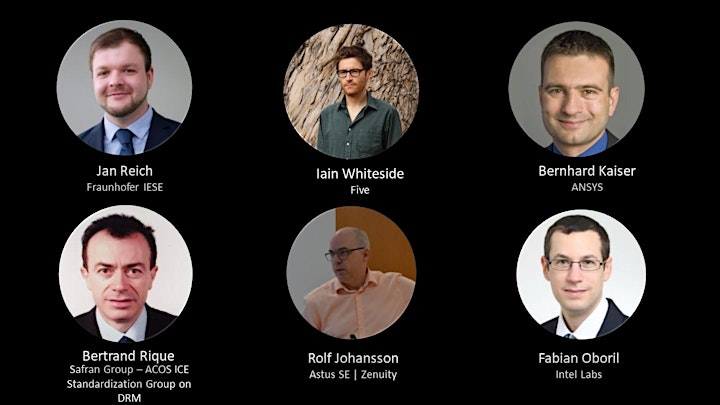 Jan Reich
Jan Reich received his Master's degree in Automotive Computer Science (M.Sc.) from TU Kaiserslautern, Germany in 2017. Since 2017, he is a full-time researcher in the "Embedded Systems Quality Assurance" (ESQ) department at Fraunhofer Institute for Experimental Software Engineering (IESE) in Kaiserslautern. He actively performs research in the areas of functional safety, model-based safety engineering methods and the runtime safety assurance of connected autonomous systems (=Dynamic Risk Management). In addition, he pursues doctoral studies in the systematic engineering of probabilistic situation-aware dynamic risk assessment monitors for automated driving. He was one of the core scientific contributors in the H2020 research project DEIS ("Dependability Engineering Innovation for cyber-physical systems"), where Digital Dependability Identities (DDI) and the corresponding tool framework have been developed enabling (semi-)automated dependability reasoning at both design time and runtime. Currently, he is contributing to the German PEGASUS successor project "V&V Methods", which deals with the synthesis of a validation-based safety case for L4/L5 automated driving functions.
Iain Whiteside
Dr Iain Whiteside is a Principal Scientist at Five and leads the Safety Assurance team. Prior to working at Five, Iain was a researcher into the future of assurance cases at NASA Ames Research Center, leading the development of the AdvoCATE toolkit --- the state of the art for assurance case construction. Iain has a PhD in formal verification of software from the University of Edinburgh and has been active in the verification and safety community for over a decade.
Bernhard Kaiser
Bernhard Kaiser works as a Principal Safety Consultant with ANSYS Germany. He has a long experience record as an embedded systems developer and project lead in different industries. As a researcher in the field of functional safety, he has written numerous highly regarded publications. Before joining ANSYS he was head of competence center for safety and systems engineering with a large engineering service provider. He has worked on many aspects of functional safety for the automotive domain, with increasing focus on ADAS and automated driving over the last couple of years. At ANSYS he is pushing forward the SOTIF activities and the closer integration of model-based systems engineering, safety analysis and simulation.
Bertrand Rique
Bertrand Ricque was born in France in 1960. After a BS in mechanics, he enters Ecole Spéciale Militaire de Saint-Cyr (French military academy). He completes an MS in general engineering, specialises in unmanned airborne systems and starts his career as commanding officer of a drone unit. In 1990 he switches to industrial activities and is appointed Senior Project Manager within Elsag Bailey. He manages various projects in petrochemical, offshore, classic and nuclear energy industries. He then holds managing positions within different suppliers of automated production systems, such as Rockwell Automation, Euraltech and Vanderlande Industries. Within all these companies, he promotes good engineering practices based on efficient project management and automated systems availability. Since 2004, Bertrand Ricque is Defense Systems Program Manager within Safran Electronics & Defense where he led UAV and MBT programs. He contributes to International Systems and Automation society SP84 committee and to International Electro technical Commission TC65. He is the convenor of the workgroup writing the IEC 63187 standard concerning the safety of complex systems and defense systems. He is trainer and consultant for safety critical instrumented systems and cybersecurity. He conducts IEC 61508/61511 audits for hazardous plants and gave automation project management lectures at École Nationale des Ponts et Chaussées.
Rolf Johansson
Dr. Rolf Johansson is a safety expert with more than 30 years of experience of embedded systems in critical vehicle applications. He has been 10 years in the aerospace domain, and more than 20 years in automotive. He holds a doctoral degree in computer engineering from Chalmers university, and a master's degree in engineering physics from Lund university. Dr. Johansson is an international expert for several safety standards such as ISO 5083, ISO 26262, ISO 21448, and UL 4600. He has also been a major contributor to the Swedish standard SS7740. In the ISO26262 standard he was one of the initiators of component-based argumentation, denoted Safety-Element-out-of-Context (SEooC).
The last eight years, his focus has been autonomous driving, where he has been a leading voice in the building of knowledge how to reach a convincing safety concept. During these years Dr. Johansson has co-authored more than 15 peer-reviewed papers, and he is also a frequently invited speaker at industrial conferences. He has had leading roles in formulating the safety argumentation strategies at the companies Zenuity and Autonomous Intelligent Driving (AID). Currently he is acting as an advisor for a few companies in Sweden and internationally.
Fabian Oboril
Fabian Oboril is a Research Scientist at Intel Labs in Germany for Autonomous Mobile Systems. His current research focus is on safe, risk-aware approaches for Automated Driving. As part of this work, he coordinates the SafeADArchitect research project. Before joining Intel in 2016, he received a PhD in computer science in 2015 on dependable design of microprocessors at the Karlsruhe Institute of Technology.
Organizer of The Autonomous Chapter Event Safety & Architecture
The Autonomous is a global community shaping the future of safe autonomous mobility. The platform strives to create a safer, more livable and more sustainable future by establishing a Global Safety Reference created by a global community that facilitates the adoption of autonomous mobility on a grand scale. To shape the Global Safety Reference and to bring the community together The Autonomous organizes several chapter events as well as a conference focussing on safety in autonomous mobility.