The session takes place on December 18 between 6-8 CET via digital platform Eyeson
Zu diesem Event
In this monthly class, I invite participants interested in the world of global finance, economy, and politics to discuss with me the geopolitical trends in global affairs and the most pressing issues following the Covid-19 crisis.
The next session of the Geopolitics Class is titled The Concept of Eurasia and The Great Game in Central Asia and will take place on December 18, between 6-8 pm CET via digital platform Eyeson.
During the second semester of this Geopolitics Class, following topics will be covered:
1) The first session of the second semester took place on October 24, at 6pm CEST/ 12 pm ET. The topic was the role of QUAD and AUKUS in the Indo-Pacific region.
2) The second session took place on November 27 between 6-8 CEST with a focus on:
Global Energy Crisis and Geopolitics of Energy.
3) The Concept of Eurasia and The Great Game in Central Asia
4) The Geopolitics of the Arctic
5) The role of external actors in Africa
6) The US vs the Dragonbear in Latin America
The Webinar is conducted via digital platform Eyeson (no download or subscription needed), https://www.eyeson.com/ The session will be recorded and you will be granted an exclusive access to the recording as well as the Power Point Presentation.
For additional information: office@velinatchakarova.com or @vtchakarova on Twitter.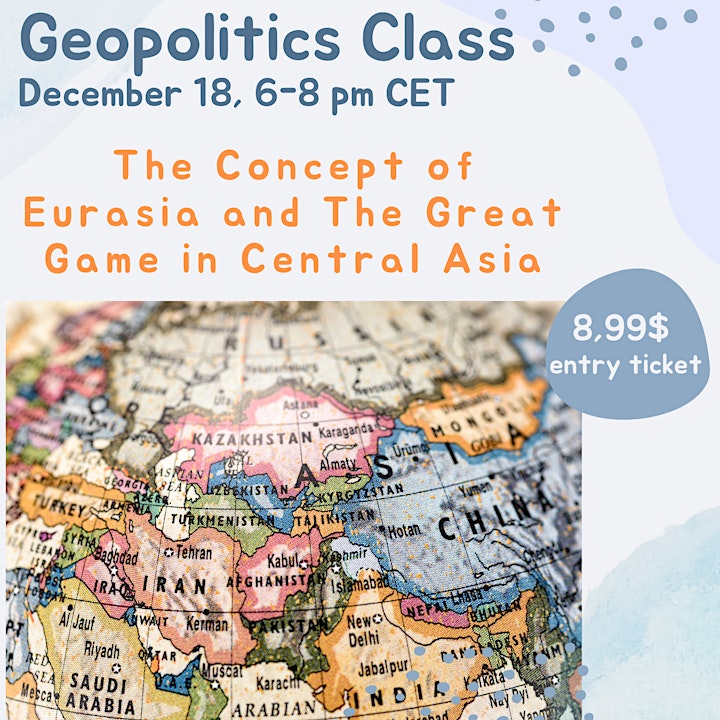 Datum und Uhrzeit
Veranstaltungsort
Veranstalter von The Concept of Eurasia and the Great Game in Central Asia