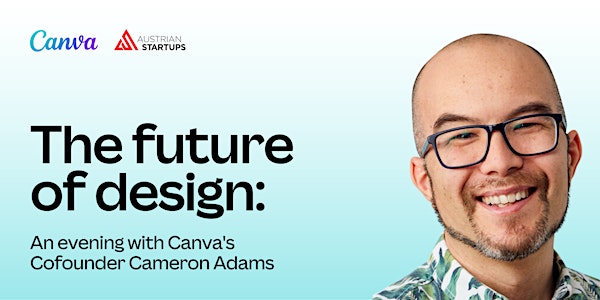 The future of design: An evening with Canva's co-founder Cameron Adams
Join us, get inspired and learn from one of the world's most successful entrepreneurs: Cameron Adams, cofounder of Canva - Australia's $26bn
Date and time
Wednesday, May 31 · 6 - 11pm CEST
Location
Kursalon Wien 33 Johannesgasse 1010 Wien Austria
Agenda
6:00 PM - 6:30 PM
Open Doors
6:30 PM - 6:35 PM
Welcome
Hannah Wundsam (AustrianStartups)
6:40 PM - 7:40 PM
Panel Discussion - The Future of Design
Hannah Wundsam (AustrianStartups)
Benjamin Groessing (Kaleido)
7:40 PM - 8:40 PM
Live Podcast Future Weekly - How to build a $26bn company
Daniel Cronin (AustrianStartups)
Markus Raunig (AustrianStartups)
8:40 PM - 11:00 PM
Get-Together, Drinks & Food
About this event
Immerse yourself in an extraordinary evening of creativity, innovation, and insights as we present "The future of design: An evening with Canva's co-founder Cameron Adams"
Join us in welcoming Cameron Adams, the visionary co-founder of Canva, the Australian design behemoth valued at $26 billion. Prepare to be captivated as Cameron takes the stage, sharing his incredible journey over the past decade - a journey that has seen Canva grow from its humble beginnings to empowering more than 125 million monthly users worldwide. Gain firsthand knowledge of his experiences, triumphs, and the fascinating intersection of creativity and AI.
Be part of the excitement as we host a live podcast recording of Future Weekly, featuring Cameron Adams in conversation with hosts Daniel Cronin and Markus Raunig. Delve into the dynamic world of design, exploring the latest trends, disruptive technologies, and the limitless potential of AI. Discover how Cameron's visionary approach and relentless pursuit of excellence have transformed Canva into a global powerhouse, revolutionizing the way people create and collaborate.
But the excitement doesn't end there! Prepare to engage in a thought-provoking fireside chat that delves deep into the future of design and the profound impact of AI. Guided by the esteemed Hannah Wundsam from AustrianStartups, this captivating discussion will bring together a distinguished panel of top entrepreneurs, including Benjamin Groessing, Co-founder of Kaleido AI and Product Lead of Canva's Photo Editor, and Nina Wöss, VC at Fund F. Gain invaluable insights into the evolving landscape of design, unlock new perspectives, and discover the limitless opportunities that lie ahead.
Join us for an unforgettable evening of inspiration, innovation, and networking. Reserve your spot now for "The future of design: An evening with Canva's co-founder Cameron Adams" and prepare to witness the transformational power of design in the age of AI.
AustrianStartups is a neutral, independent and non-profit platform for innovative entrepreneurship in Austria. It is an open place for startups, change-makers, and interested persons, who are all encouraged to launch joint initiatives with us. We invite you to work with us to turn Austria into a hub for innovative minds and look forward to hearing from you! The people behind AustrianStartups believe that entrepreneurial thinking and acting are key for positive change. That's why we are working for a future where entrepreneurship will be as common as skiing in Austria.
Launched in 2013, Canva is an online design and visual communication platform with a mission to empower everyone in the world to design anything and publish anywhere. Since launching in 2013, Canva has more than 125 million monthly users around the world, and has achieved the milestone of more than $1.4 billion in annualized revenue. From presentations to videos and websites, more than 15 billion designs have been created with the platform (200+ every second) across more than 190 different countries and in over 100 different languages.
---
An event by Canva x AustrianStartups