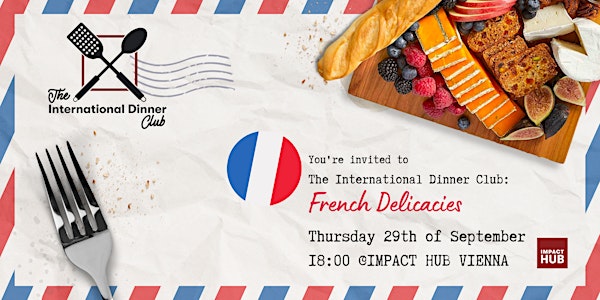 The International Dinner Club: French Delicacies
Bonjour et bienvenue en France. Come to spend a night in the French style and find out if your clichés are myths or reality
When and where
Location
Impact Hub Vienna 56 Lindengasse TOP 18-19 1070 Wien Austria
About this event
You voted for it at the previous dinner, here it comes… the French Dinner 🍷 🧀 🥖
France is often described as the country of gastronomy (and of modesty 😌). Is it true?
Do we really eat frogs' legs, snails, baguette/wine/cheese at every meal? 🐸
Do we wear a striped T-shirt with a beret, a croissant in our hand and singing some Edith Piaf song?
Myth or reality, come and find it out on Thursday, September 29th from 6pm on the 1st floor of Impact Hub. Surprises await you.
Price: 8€, starter, main dish, dessert and acohol included
Dress code: dress the way you imagine French fashion to be 👠
It is mandatory to take a ticket BEFORE the event: you can pay cash directly at the reception desk or take it online via EventBrite.
Ps: you can share by message or in person your French cliché before the event.
*A note on photography
We typically create photos at events we host. The photos are published to represent our activities on our website and in social media channels as well as possibly in print media, especially brochures, folders, etc. Further information on data protection, in particular, your right to Information, correction, deletion, etc can be found at https://vienna.impacthub.net/privacy-policy.
By signing up, you agree to your picture being taken at this event.