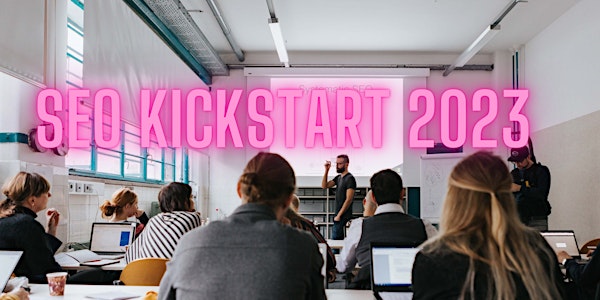 THE SEO KICKSTART 2023
3 Days of All in SEO: Systematic SEO & Technical SEO, Content SEO, Data driven SEO via the Google Search Console - 2 Trainers
Date and time
February 14 · 9am - February 16 · 6pm CET
Location
Ibis Mariahilferstrasse Mariahilfer Gürtel 22-24 1060 Vienna Austria
Refund Policy
Contact the organizer to request a refund.
About this event
What is THE SEO KICKSTART 2023?
A series of 3 Search Engine Optimization Workshops in 3 Days that will enable you to drive SEO traffic to your website in a scaleable, systematic way - for 2023 and beyond. We cover
Systematic SEO - The big picture, how SEO really works
Technical SEO - Onpage, Onsite, Distribution, Speed,Page Creation Processes
Content SEO - Search demand research, Search Intent, Targeting, Content Diversity, Conversion, Branding
Data Driven SEO - Using and interpreting the Google Search Console, Page Speed Insights, Core Web Vitals, Mobile Friendly Test, Rich Results Test for the right SEO decisions
Whom is it for?
You should already work with a website in any capacity, either a company website or your blog or something in between. Either as a web responsible person, as a content writer, or as a designer, web-developer, as marketing-, project- or product manager, data person, ... And you want to, or must, kick off SEO and/or get it to the next level. No previous SEO knowledge needed. We will pick you up from wherever you currently are ad your SEO knowledge.
The trainers
(Franz Enzenhofer was showcasing pages created by Dominik as best practices now for years. Now it's time to let the master speak for himself.)
Agenda
Day 1: Systematic SEO and Technical SEO - Trainer: Franz Enzenhofer - 14.2.2023 / 09:00 -18:00
Day 2: Content SEO - Trainer: Dominik Stelzig - 15.2.2023 / 09:00 -18:00
Day 3: Data Driven SEO - Trainer: Franz Enzenhofer - 16.2.2023 / 09:00 - 18:00
All workshops will be in english. You will get an official certificate end of day 3.
Where
At professional seminar venue in the center of Vienna. Coffee, breakfast, snacks, more coffee, lunch, even more coffee are included.
14 participants maximum.
At the end
At the end of THE SEO KICKSTART 2023 you will be able to define a SEO strategy for your website, including SEO tasks and processes than can be executed by you or your team - to drive scaleable SEO traffic to your website. You will be able to monitor SEO progress via the Google Search Console and other Google tools. And if necessary change direction based on hard, cold data directly from Google. You will rock.
These 3 days will be exhausting. They will be worth it.
About the organizer
Franz Enzenhofer changes the internet since 1998. Over his career he worked with startups, market leaders, startups then market leaders, market leaders that reinvented themselves as startups, state-owned companies, freelancers, concert halls, cities, political parties, betting companies, NGOs, economic chambers, TV stations, family-owned small businesses, Fintechs, old school banks, national and international newspapers and news agencies, media houses, media conglomerates, sports teams and more. He worked with organizations in the US, UK, D.A.CH, Ireland, India, Thailand, Peru, Colombia, Spain, Portugal, Poland, Netherlands, Italy, Germany, Switzerland, Croatia, Hungary, Bulgaria, Gibraltar, Sweden, Cyprus and more. He cares about scaleable, systematic Growth. He is known for his No B*llshit SEO. He does Growth.