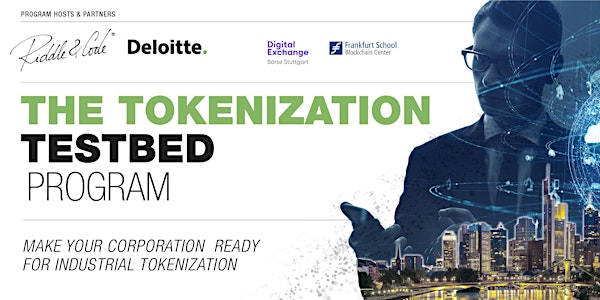 Tokenization Testbed Program (Free) Preview Event
Leading industry experts on why Tokenization will change industrial planning & what the upcoming Tokenization Testbed Program is all about.
About this event
The Tokenization Testbed Program Preview Event aims to provide an introduction to the main topics that will be covered during the Tokenization Testbed Program, starting from February 2021 - see here for further information of this workshop series, making it Germany's leading 360° industrial tokenization accelerator.
With the rise of decentralized finance, renewed interest in cryptocurrencies and tokenization of existing financial assets already happening today, it has become clear that industrial tokenization will not be limited to the financial sector but goes well beyond new forms of project or asset financing. Combing the advantages of securities with the automation potential of blockchain in the IoT space, several utilities can be attached to the digital layer of physical objects in the future.
Witnessing the big wave of digitalization during the pandemic, it has also become clear that tokenization and its many advantages will result in a push towards efficiency, transparency and security for renewing industrial processes, consumer involvement and sustainable business solutions based in incentive schemes that will be deeply woven into the financial transaction layers of tomorrow.
So regardless if you are keen to understand the future impact of the Digital Euro and other Central Bank Digital Currency plans that are currently evaluated or if you want to prepare your company for the launch of a security or utility token - the Tokenization Testbed Program will be the perfect event to get your teams ready - and this Preview Event will tell you why.
Listen to leading experts and get the full context on Dec 8th and by taking a look at the Tokenization Testbed Program here.
HOSTS
Riddle&Code, Deloitte, Frankfurt School Blockchain Center, and Börse Stuttgart Digital Exchange
AGENDA:
Welcome & Intro (10:00-10:15h)
Introduction of program partners (10:15-11:00h)
Why do the program partners believe in tokenization? What is the role of the respective companies and where are they actively working on tokenization?
1st Lecture: Prof.Dr. Philip Sandner, Head of the Frankfurt School Blockchain Center (11:00-11:50)
Tokenization of Everything: Turning Machines, Real Estate, Cars into Digital Assets
10 minutes break
2nd Lecture: Sebastian Becker, CCO of RIDDLE&CODE (12:00-12:20h)
Tokenization: The Operational Perspective and the Long-Term Outlook
3rd Lecture: Jens Hermann Paulsen, Operational Lead at Deloitte (12:20-12:40h)
Token Economics: How to be prepared as a corporate in the emerging regulatory landscape?
The Tokenization Testbed (12:40-13:30h)
Why should you participate and how will it be structured?
Detailed Program Overview
FORMAT
Online conference presentations
MODE
Link for Zoom: https://zoom.us/j/99003877919
Meeting ID: 990 0387 7919
OUTCOMES
Understand why Tokenization is relevant, what the main concepts are and how it is applied in various industries.
Tokenization Testbed Program overview: learn about its goals, structure and deliverables.
Get insights from the Tokenization Testbed Program hosts about their respective activities in this field.