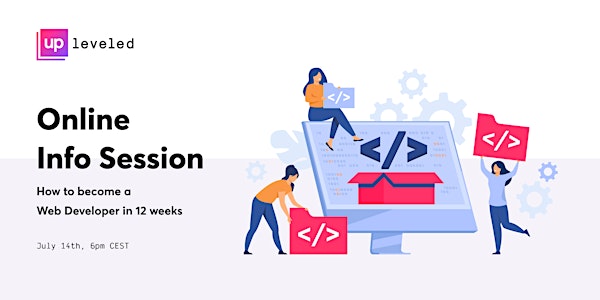 UpLeveled Info Session
Learn how to become a Web Developer in a 12 week Coding Bootcamp in Vienna. We will walk you through the details and answer your questions.
About this event
"Learn to code with us and become a web developer in our 12-week immersive program" 🚀
Sounds awesome, right? But you've got sooo many questions? 🤔
Here are just some of the things we'll cover:
How does a coding bootcamp work?
What technologies will I learn?
How to get started?
What are the career options?
Will UpLeveled find me a job?
What if I do not have any upfront knowledge?
What does it take to join?
Let's get together for a relaxed zoom session 💻 We will share facts and insights about our Web Development program, you can ask us anything (well, almost 😉) and get to know us.
(No need to join via video! If you wanna just listen in and not use the camera/mic - that's fine of course. We would love to see you, but feel free to join on mute and use the chat function)
How to join?
👉 Register for the event (it's free)
👉 You'll receive an email reminder before the event starts
👉 Click on the link provided in that email
We're excited to get to know you!
Your UpLeveled Team