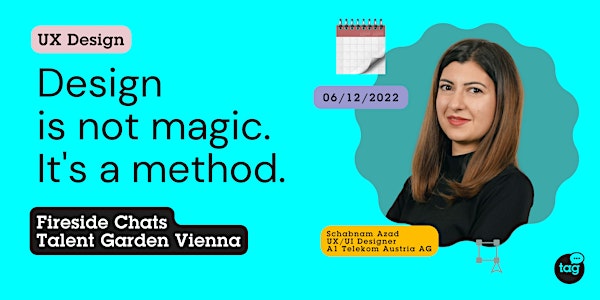 UX Design Fireside Chat: Design is not magic. It's a method.
Meet Schabnam Azad, UX/UI Designer @ A1 Telekom Austria AG, Web Accessibility Lecturer and UX Mentor
When and where
Location
Talent Garden Vienna Liechtensteinstraße 111-115 1090 Wien Austria
About this event
Join us for a networking evening with Schabnam AzadUX/UI Designer @ A1 Telekom Austria AG, Web Accessibility Lecturer and UX Mentor!
Pursuing our goal to bring insightful and inspiring content to our community, we're inviting the students of our UX Design Bootcamp and others interested in the topic, to discover more about the thrilling UX Design world by the hand of experience speakers.
What will happen during the event?
In the UX Design Fireside Chats, we invite experts from different companies and industries to an informal chat. The goal is to learn from them and get some first-hand insights into their job - all in a relaxed atmosphere at our Talent Garden Campus in Vienna.
This event is part of our UX Design Full-time Bootcamp and the students run the show. Rather than having a host or presentation, they are the ones asking questions to our guest speakers. This way, we make sure that they get all the answers they need!
Take-aways:
Learn from UX experts who share their experiences and insights into their job
Meet and network with like-minded people interested in UX Design
Meet the Talent Garden Innovation School team and the students of the UX Design courses
Get to know the Talent Garden Co-Learning Space
Agenda
17:00-18:00 Informal Interview with the guest speaker
18:00-18:30 Networking session and Q&A about the UX Full Time Bootcamp for those interested
How to join
1. Book your ticket through the Eventbrite page
2. Come to Talent Garden Vienna on the day of the event at the indicated time.
3. Enjoy!
Talent Garden Innovation School
Our innovative educational institute uses a disruptive learning approach that puts people at the centre through a cutting-edge training methodology. We deliver in-depth courses and training programs for both individuals and companies, focusing on five key areas: coding, data, marketing, design and business.