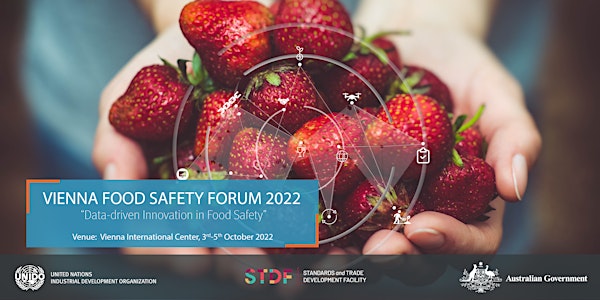 Vienna Food Safety Forum (in-person)
This blended event brings together public and private food safety stakeholders to reflect on major trends in food safety and digitalization.
When and where
Location
Vienna International Centre 5 Wagramer Straße 1400 Wien Austria
About this event
Global food systems face unprecedented challenges from supply chain disruptions and economic slowdown through the global pandemic. Covid-19 fast-tracked the adoption of digital solutions for decision making by food safety regulators, businesses, service providers, academia and others.
This event provides a platform for stakeholders with a role in food safety to share their experiences, results and challenges in using digital and innovative approaches to strengthen food safety practices. It will include attention to electronic exchange of certification related to food trade, remote audit and inspection practices, and voluntary third-party assurance (vTPA) programmes.
Participants will explore the following key questions:
1. How can new data-driven innovations improve food control and food safety management practices?
2. What role can public-private dialogue play in data-driven innovation?
3. What can we learn from existing experiences and challenges in using digital approaches and innovations to transform food safety practices?
Representatives of public and private sector stakeholders, academia, international/regional organizations and others with an interest in food safety are encouraged to attend.
More information, including the programme (in English, French and Spanish), will be available here shortly. Visit the event website for further details.
__________________________
Los sistemas alimentarios mundiales se enfrentan a retos sin precedentes, desde las interrupciones de la cadena de suministro y la desaceleración económica hasta la pandemia mundial. La Covid-19 ha acelerado la adopción de soluciones digitales para la toma de decisiones por parte de los reguladores de la inocuidad de los alimentos, las empresas, los proveedores de servicios, el mundo académico y otros.
Este evento proporciona una plataforma para que las partes interesadas que desempeñan un papel en la inocuidad de los alimentos compartan sus experiencias, resultados y desafíos en el uso de enfoques digitales e innovadores para fortalecer las prácticas de inocuidad de los alimentos. Se dedicará atención al intercambio electrónico de certificaciones relacionadas con el comercio de alimentos, a las prácticas de auditoría e inspección a distancia y a los programas voluntarios de aseguramiento por parte de terceros (vAPT).
Los participantes explorarán las siguientes cuestiones clave:
1. ¿Cómo pueden las innovaciones basadas en datos mejorar las prácticas de control y gestión de la inocuidad de los alimentos?
2. ¿Qué papel puede desempeñar el diálogo público-privado en la innovación basada en datos?
3. ¿Qué podemos aprender de las experiencias y desafíos existentes en el uso de enfoques e innovaciones digitales para transformar las prácticas de inocuidad de los alimentos?
Se anima a asistir a los representantes de las partes interesadas del sector público y privado, del mundo académico, de las organizaciones internacionales/regionales y de otros interesados en la inocuidad de los alimentos.
Más información, incluyendo el programa (en inglés, francés y español), estará disponible aquí en breve.
__________________________
Les systèmes alimentaires mondiaux sont confrontés à des défis sans précédent, depuis les perturbations de la chaîne d'approvisionnement et le ralentissement économique jusqu'à la pandémie mondiale. La Covid-19 a accéléré l'adoption de solutions numériques pour la prise de décision par les organismes de réglementation de la sécurité sanitaire des aliments, les entreprises, les fournisseurs de services, le monde universitaire et d'autres.
Cet événement offre une plateforme aux parties prenantes ayant un rôle dans la sécurité sanitaire des aliments pour partager leurs expériences, leurs résultats et leurs défis dans l'utilisation d'approches numériques et innovantes pour renforcer les pratiques de sécurité sanitaire des aliments. Il portera notamment sur l'échange électronique de certifications liées au commerce alimentaire, les pratiques d'audit et d'inspection à distance et les programmes d'assurance volontaire par des tiers (APTv).
Les participants exploreront les questions clés suivantes :
1. Comment les nouvelles innovations axées sur les données peuvent-elles améliorer les pratiques de gestion du contrôle et de la sécurité sanitaire des aliments ?
2. Quel rôle le dialogue public-privé peut-il jouer dans les innovations fondées sur les données ?
3. Que pouvons-nous apprendre des expériences et des défis existants dans l'utilisation des approches et des innovations numériques pour transformer les pratiques de sécurité sanitaire des aliments ?
Les représentants des parties prenantes des secteurs public et privé, des universités, des organisations internationales/régionales et d'autres personnes intéressées par la sécurité sanitaire des aliments sont encouragés à y participer.
De plus amples informations, y compris le programme (en anglais, français et espagnol), seront disponibles ici sous peu.